GRAPHITE : "Prospective geography of urban territories", a participative approach to local urban planning: from observation to commitment?
GRAPHITE : «Géographie prospective des territoires urbains », une démarche participative d'urbanisme de proximité : de l'observation à l'engagement ?
Graphite is an active geography project involving young people as experts, witnesses and developers of their territories in the perspective of the "right to the city". Through a collaboration between high schools, colleges and local actors, the research-action "Graphite" aims to enhance the experience of a category of 14-17 year old inhabitants, absent from urban design/production. However, the design process of urban planning micro-projects is put to the test of the strong inequalities of the living conditions of students outside of school. Social, urban and school segregations and fragmentations are factors of differentiation in students' practices, representations and projects. In the original version of this project, the regional scale made it possible to become aware of these differences and inequalities generating contrasting views of the city. The relaunch of the project since 2022 through a scheme for disadvantaged neighborhoods, the "Educational Cities", raises the ambivalent issues of a refocusing on the priority neighborhoods in the north of Marseille, with the loss of a discovery of otherness and exchanges between young people from different geographical and social worlds.
Graphite est un projet de géographie active impliquant les jeunes comme experts, témoins et développeurs de leurs territoires dans la perspective du " droit à la ville ". A travers une collaboration entre lycées, collèges et acteurs locaux, la recherche-action "Graphite" vise à valoriser l'expérience d'une catégorie d'habitants de 14-17 ans, absente de la conception/production urbaine. Mais la démarche de conception de micro-projets d'urbanisme est mise à l'épreuve des fortes inégalités des conditions de vie des élèves en dehors de l'école. Les ségrégations et fragmentations sociales, urbaines et scolaires sont des facteurs de différenciation dans les pratiques, représentations et projets des élèves. Dans la version originale de ce projet, l'échelle régionale permettait de prendre conscience de ces différences et inégalités générant des regards contrastés sur la ville. La relance du projet depuis 2022 à travers un dispositif pour les quartiers défavorisés, les " Cités éducatives ", soulève les enjeux ambivalents d'un recentrage sur les quartiers prioritaires du nord de Marseille, avec la perte d'une découverte de l'altérité et des échanges entre jeunes issus de mondes géographiques et sociaux différents.
Fichier principal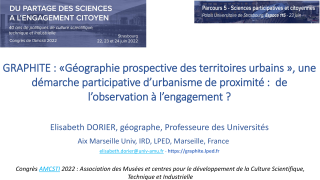 2022_GRAPHITE jeunes et ville AMCSTI.pdf (8.58 Mo)
Télécharger le fichier
Origin : Files produced by the author(s)