Des méthodes et des hommes. La production sociale du savoir sur l'efficacité de la peine de mort
Forschungen zur abschreckenden Wirkung von Strafen haben eine beeindruckende Quantität erreicht, aller-dings mit widersprüchlichen und schwer verdaulichen Ergebnissen. Eine Untersuchung der Forschergruppen, die über die Korrelationen von Mord und Todesstrafe arbeiten, erlaubt die Identifikation einer« laute Minderheit », die für die abschreckende Wirkung der Todesstrafe plädiert. Die Kenntnis eines Autors stellt einen bedeutenderen Prädiktor für die Ergebnisse der empirischen Zusammenhänge von Todesstrafe und Mord dar als z.B. die Art der verwenden Datenquellen. Man kann ein bestimmtes Profil von Autoren erstellen, die in empirischen Untersuchungen regelmäßig zu Ergebnissen kommen, die die abschreckende Wirksamkeit der Todesstrafe zeigen: es handelt sich um einen amerikanischen Ökonomen, dessen Spezialgebiet nicht Kriminalität ist und der an einer Universität mit geringerer Reputation lehrt. Auf der anderen Seite kommen Soziologen und Ökonomen aus hoch gerankten Fakultäten eher zum Ergebnis, das die Todesstrafe keine abschreckenden Wirkungen hat.
Rational choice theory has given birth to a massive amount of quantitative empirical knowledge on the deterrent effect of punishment, a field in which results are often confusing and discordant. This paper explores the research communities working on the correlation between executions and homicides, and identifies a « vocal minority » of academics who are very favorable to the death penalty. Knowing the name of the author of an article is a better predictor of the correlations found by the article that the type of data used. This study also shows the typical profile of an author who has a large amount of pro-death penalty results: an American economist, who does not present himself as a specialist in crime and punishment, and who teaches in a faculty ranked lower than the one where he obtained his PhD. On the other hand, sociologists and economists of high-ranking universities tend to find results closer to a « zero » effect of the death penalty on homicide.
La investigación sobre el efecto disuasorio de las penas ha generado una impresionante producción cuantitativa, a menudo indigesta y discordante. Una exploración de los equipos que analizan la correlación ejecuciones-homicidios permite identificar una « minoría muy ruidosa » de investigaciones favorables a la pena de muerte. En este ámbito, conocer al autor del artículo es mejor predictor de las correlaciones encontradas, que el tipo de datos utilizado. Este trabajo muestra un perfil del autor que cuenta con una proporción significativa de resultados favorables a la pena de muerte: es un economista estadounidense que no es especialista en criminalidad y que imparte docencia en una facultad menos prestigiosa que aquella en la que defendió su tesis. Por contra, los sociólogos y economistas de facultades de mayor prestigio tienen tendencia a encontrar resultados más próximos a un efecto « cero » de la pena de muerte en las tasas de homicidio.
La recherche sur l'effet dissuasif des peines donne lieu à une impressionnante production quantitative, souvent indigeste et discordante. Une exploration des équipes qui travaillent sur la corrélation exécutions-homicides permet d'identifier une « minorité bruyante » de recherches très favorables à la peine de mort. Connaître l'auteur d'un article dans ce do-maine est un meilleur prédicteur des corrélations trouvées que le type de données utilisé. On découvre alors un profil type de l'auteur qui a une proportion importante de résul-tats favorables à la peine de mort : il s'agit d'un économiste américain qui ne se présente pas comme spécialiste du crime et qui enseigne dans une faculté moins prestigieuse que celle où il a soutenu sa thèse, alors que les sociologues et les éco-nomistes des facultés hautement classés ont tendance à trou-ver des résultats plus proches d'un effet « zéro » de la peine de mort sur l'homicide.
Fichier principal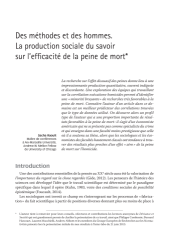 ds2015sr.pdf (2.35 Mo)
Télécharger le fichier
Origin : Files produced by the author(s)