Electronic Weight Watchers: how much are your resonant structures worth?
Weight Watchers électronique : calculez votre poids de formes résonantes
To celebrate the centenary of G.N. Lewis' envision of the chemical bond, this article shows how the resonance between contributing resonance structures (which are none other than Lewis structures) may be modeled by very simple calculations. The overlap between structures is computed to evaluate their weights, and a trust factor is defined. It is convenient to consider such a trust factor to ensure that the description using "resonance between contributing structures" and the one that describes "electron delocalization" are consistent. Thus it helps to answer to the question: "Should I add this additional Lewis structure?" The example of methylene cyclopropene is used to show the interest of quantifying the weight of resonant structures. This species is highly polarized with a negative charge on the exocyclic carbon, which is easy to understand considering that this charge corresponds to mesomeric forms having an aromatic ring.
Pour célébrer le centenaire de la représentation de la liaison chimique établie par Gilbert Lewis, cet article montre comment la résonance entre structures limites (qui ne sont autres que des structures de Lewis) peut être modélisée par des calculs très simples. Le recouvrement entre structures peut être calculé et utilisé pour obtenir les poids des structures mésomères, et un taux de confiance est extrait, permettant de s'assurer de la cohérence entre la description de type « résonance entre structures limites » et « délocalisation électronique ». Ce taux de confiance aide à répondre aux questions suivantes : « Dois-je ajouter une autre structure de Lewis ? » et « Est-elle importante ? » L'exemple du méthylène cyclopropène est utilisé pour montrer l'intérêt de chiffrer les poids des structures résonantes. Cette espèce est fortement polarisée par une charge négative sur le carbone exocyclique, ce qui se comprend bien si on considère que cette charge correspond à des structures mésomères ayant un cycle aromatique.
Fichier principal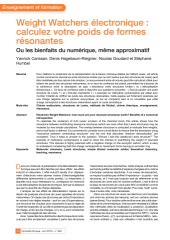 2016-406-avril-p36-Humbel-HD.pdf (2.14 Mo)
Télécharger le fichier
Origin : Explicit agreement for this submission