Addiction to alcohol, concrete object and internal control tested
La adicción al alcohol, objeto concreto y Control Interno probado
Addiction à l'alcool, objet concret et régulation des éprouvés internes
Clinical work with alcoholics led us to examine intra-psychic tensions that existed prior to alcoholism and to foresee using them as a strategy for controlling—external, specific, and illusory—their "indescribable" internal feelings. This paper aligns with other psychoanalytical work on addition and group psychodrama. First, it specifies the psycho-pathological effects of failing to constitute an internal object on the psychotherapeutic setting. Then, based on clinical examples from our group practice, this paper emphasizes the function of "concrete object" in the implementation of a symbolization process.
El trabajo clínico ante los pacientes adictos al alcohol, nos ha llevado a examinar la existencia de tensiones intrapsiciquas antes de sus comportamientos de alcoholización y a considerar el recurso a ellas como una estrategia externa, puntual y ilusoria de regulación de sus emociones « innommables ». Situando nuestra idea en la línea de los trabajos psicoanalíticos sobre la adicción y sobre el psicodrama de grupo, precisamos en primero los efectos psicopatológicos de una insuficiencia en la constitución del objeto interno sobre el dispositivo psicoterápico; A partir de secuencias clínicas resultadas de nuestra practica grupal, ponemos de relieve la función de los « objetos concretos » en la puesta en obra de un proceso de simbolización.
Le travail clinique auprès de patients addictifs à l'alcool nous a amenés à interroger l'existence de tensions intrapsychiques en amont de leurs conduites d'alcoolisation et à envisager le recours à celles-ci comme une stratégie – externe, ponctuelle et illusoire – de régulation de leurs éprouvés internes « innommables ». Situant notre propos dans la lignée des travaux psychanalytiques sur l'addiction et sur le psychodrame de groupe, nous précisons tout d'abord les effets psychopathologiques d'une défaillance dans la constitution de l'objet interne sur le dispositif psychothérapique. Puis, et à partir de séquences cliniques issues de notre pratique groupale, nous mettons en relief la fonction des objets concrets dans la mise en œuvre d'un processus de symbolisation.
Fichier principal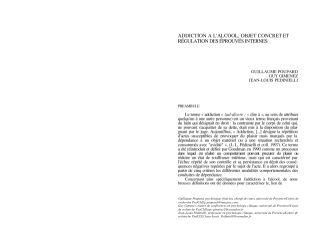 Guy_Gimenez_publication_34_Addiction a l'alcool - Poupard Gimenez Pedinielli.pdf (53.58 Ko)
Télécharger le fichier
Origin : Files produced by the author(s)