"Quand j'avais 7 ans je mai tué " puis je suis devenu schizophrène"
Psychotic dccompensation can bc perceived as family bonds being attac-ked. It can be limited to a traumatic event like the news of a ncw-born's death or an unbearable crime committed by a child. Parents then give up investing in their child who then goes through a narcissistic "fracture". The authors show from a case study, how this overall disillusion process can bring about paranoid expériences in life.
La décompensation psychotique peut être appréhendée comme une attaque des liens familiaux. Elle peut être reliée à un événement traumatique tel l'annonce de la mort d'un nouveau-né ou d'un acte intolérable commis par un enfant. Les parents désinvestissent l'enfant qui vit une "fracture" narcis-sique. Les auteurs montrent à partir d'un cas clinique, comment ce mouve-ment de désillusion massif peut déclencher des vécus paranoïdes.
Fichier principal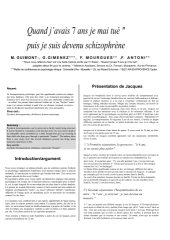 Guy_Gimenez_publication_65_Quand j'avais 7 ans je mai tué - Gimenez.pdf (193.69 Ko)
Télécharger le fichier
Origin : Files produced by the author(s)