Psychotic patients' change and évolution
Plasticité et évolutivité des patients psychotiques en psychothérapie
Plasticidad y evolutividad de los pacientes psicôticos en psicoterapia
This writing maintains thé idea of change of psychic process with psychotic patients. By proping up thé psychomerapy of a schizophrénie patient, thé authors show psychotic patient's évolution, by emphasizing thé modification of défensive mechanisms, of type of anguish, and thé transformation of status of delirious ideas. This évolution finds one of its expressions in thé relation with another ; so thé setting of therapeutic relation contains thé mark of it, as thé change of psychotic transfer and of clinician's psychic position bring out.
Cet écrit soutient l'idée d'une plasticité du fonctionnement psychique des patients psychotiques. En s'étayant sur le suivi d'un patient schizophrène, les auteurs montrent l'évolutivité du patient psychotique, en insistant sur la modification des mécanismes défensifs, du type d'angoisse et sur la transformation du statut des idées délirantes. Cette évolution trouve une de ses expressions dans la relation à un autre que soi ; le cadre de la relation psychothérapeutique en contient donc la marque, comme le met en évidence le changement du transfert psychotique et du positionnement psychique du clinicien.
El articule sostiene la idea de una plasticidad del funcionamiento psfquico de los pacientes psicôticos. Basândose en el seguimiento de un paciente esquizofrénico, los autores muestran la evolutividad del paciente psicôtico, haciendo hincapié sobre la modificaciôn de los mécanismes défensives, del tipo de ansiedad y sobre la transformaciôn del estatuto de las ideas délirantes. Esta evoluciôn encuentra una de sus expresiones en la relaciôn a otro que a uno mismo; el marco de la relaciôn psicoterapéutica contiene la marca de ello, como lo demuestra el cambio de la transferencia psicôtica y el cambio del posicionamiento psfquico del terapeuta.
Fichier principal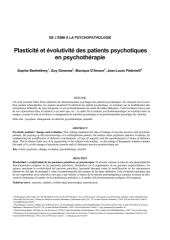 Guy_Gimenez_publication_66_Plasticité et évolutivité des patients psychotiques en psy….pdf (240.96 Ko)
Télécharger le fichier
Origin : Files produced by the author(s)