Le travail collectif dans les établissements scolaires : quête ou déni ?
This paper presents the first part of on the field research into "successful ambition networks" in France, whose prescription reconfigures both the organisation and content of the work of those involved: head teachers, inspectors and tutors. To show the relationships between the organisation, supervision and activities of teachers, this paper presents an ergonomic approach which confronts, through interviews and observations, the supposedly acquired professional conduct of this personnel in work collectives. In the first part it shows the limits of scientific knowledge available (in the school, head teachers, inspectors, the work of teachers in the classroom) to highlight "new" work relationships. In the second part it shows how this new reconfiguration, which does not require collective work to be reorganised, prevents the development of an organisational activity (collective and individual), deployed in the everyday running of schools. The consequences, in terms of occupational health, are discussed in the final part.
Este texto presenta la primera etapa de una investigación sobre el terreno, referente a las "redes ambición y éxito" en Francia, cuya prescripción reconfigura tanto la organización como el contenido del trabajo de los protagonistas : jefe de establecimiento, inspección territorial y "profesores referentes". Para tener en cuenta las relaciones entre la organización, los mandos y las actividades de los profesores, este artículo presenta un procedimiento ergonómico que compara, a través de entrevistas y de observaciones, las profesionalidades que se suponen adquiridas y movilizadas por estas personas en los colectivos de trabajo. Muestra en una primera parte los limites de los conocimientos científicos disponibles (sobre el establecimiento, los jefes de establecimiento, los cuerpos de inspección, el trabajo de los profesores en la clase) para rendir cuentas de las "nuevas" relaciones profesionales. En una segunda parte muestra cómo esta nueva reconfiguración, que no exige una reorganización del trabajo colectivo, impide el desarrollo de una actividad organizativa (colectiva e individual), diariamente desplegada de manera invisible en el marco del funcionamiento corriente del establecimiento. Las consecuencias, en términos de salud laboral, se debaten en una última parte.
Ce texte présente la première étape d'une recherche de terrain sur les « réseaux ambition réussite » en France, dont la prescription reconfigure à la fois l'organisation et le contenu du travail des protagonistes : chef d'établissement, inspecteur territorial et « professeurs référents ». Pour rendre compte des rapports entre l'organisation, l'encadrement et les activités des professeurs, cet article utilise une démarche ergonomique qui confronte, à travers des entretiens et des observations, les professionnalités supposées acquises et mobilisées par ces personnels dans des collectifs de travail. Il montre dans une première partie les limites des connaissances scientifiques disponibles (sur l'établissement, les chefs d'établissement, le corps d'inspection, le travail des enseignants en classe) pour rendre compte des « nouveaux » rapports professionnels. Il montre, dans une seconde partie, comment cette nouvelle reconfiguration, n'appelle pas une réorganisation du travail collectif et empêche le développement d'une activité organisationnelle (collective et individuelle), quotidiennement déployée de façon invisible dans le cadre du fonctionnement ordinaire de l'établissement. Les conséquences, en termes de santé au travail, sont discutées dans une dernière partie.
Fichier principal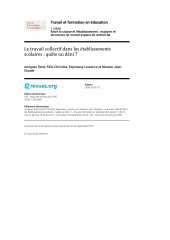 tfe-1395.pdf (318.47 Ko)
Télécharger le fichier
Origin : Publisher files allowed on an open archive