Avatars de Napalm Girl, June 8, 1972 (Nick Ut) : variations autour d'une icône de la Guerre du Vietnam
This essay examines and analyses the iconic status of Nick Ut's Vietnam photograph Napalm Girl ("Vietnam Napalm", 1972) and its recycling in postmodern art and various media. Since it was published, this image has stood for the trauma of the Vietnam War and its lasting effects on the American collective memory. The symbolic crucifixion of the naked child is all the more powerful as the spectator, in this decisive moment, is facing horror and is invited to act. From the moment the picture reappeared in the mid-1980s, a compulsive repetition occurred through various artistic media. While the The damages caused by the United States and represented by the child victim remain constant, the initial anti-war message has been transformed into an anti-imperialistic one, closely related to the American consumer society. As such, the avatars of the Napalm Girl ultimately invite the spectator to conduct a critical reflection in visual media about the idolatrous behaviors elicited by icons.
Cet article s'attache à analyser les remplois et détournements issus de la photographie emblématique Napalm Girl de Nick Ut pendant la Guerre du Vietnam, dans des productions artistiques et différents médias. Dès sa publication, cette image a représenté le traumatisme de la Guerre du Vietnam et ses effets durables dans la mémoire collective américaine. L'effet de la crucifixion symbolique de l'enfant nu est d'autant plus puissant que le spectateur, dans cet instant décisif, fait face à l'horreur et est interpelé. Dès l'instant où l'image réapparaît au milieu des années 1980, une compulsion de répétition se déclenche à travers plusieurs médias. La dénonciation des dommages causés par les États-Unis, représentés par l'enfant victime, sont un invariant, alors que le message initial contre la guerre se transforme en une posture anti-impérialiste étroitement liée à la société de consommation américaine. À ce titre, les avatars de « la jeune fille au napalm » invitent le spectateur à mener une réflexion critique et graphique sur les comportements idolâtres générés par une icône.
Fichier principal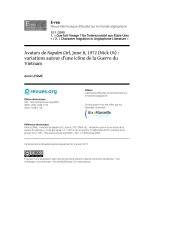 erea-4650.pdf (492.52 Ko)
Télécharger le fichier
Origin : Publisher files allowed on an open archive