DE-FLEXION, ANIMATION AND SPATIALITY FROM LATIN TO FRENCH AND ITALIAN
DEFLESSIONE, ANIMAZIONE E SPAZIALITÀ DAL LATINO AL FRANCESE E ITALIANO
DE-FLEXIE, ANIMAȚIE ȘI SPAȚIU DIN LATINĂ ÎN FRANCEZĂ ȘI ITALIANĂ
The study of Romance deflection solutions can show that information extracted from the word ending flexion concerns the agency and animation redistributed under gender and number categories. The article highlights correspondences between the genesis of the semiologic categories of gender and number, and space representation. The psychomecanics methodological framework allows us to highlight systematic and diachronic consistencies of specific language systems.
Studiul de soluții de deviere romanice poate demonstra că informațiile extrase din cuvânt se referă la agent și la animația redistribuită în categoriile de gen și număr. Articolul subliniază corespondențe între geneza categoriilor semiologice de sex și număr și reprezentarea spațiului. Cadrul metodologic psihomecanics ne permite evidențierea consistenţei sistematice și diacronice a limbajelor specifice.
Lo studio di soluzioni romanze del movimento evolutivo di perdita della flessione e anteposizione della morfologia permetterà di mostrare che le informazioni estratte dalla desinenza casuale e ridistribuite sotto le categorie del genere (gen.) e del numero (num.) concernono l'agentività e l'animazione – due criteri di definizione della persona – e di osservare lo slittamento del criterio di animazione verso un criterio spaziale. Si mostrerà come dalle lingue semitiche alle lingue indoeuropee (ie.) il legame intrinseco tra animazione e semantesi viene ricoperto dalle concezioni del gen. e del num. che, di nuovo, tramite criteri spaziali distribuiscono l'agentività. Si proporrano cenni storici sulle categorie del gen. in ie. e in latino (lat.), prima di presentare l'elaborazione psichica del gen. e del num.
Fichier principal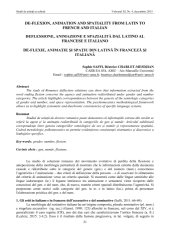 SAFFI_MESDJIAN-CHARLET_Deflessione-dal-latino-al-francese-italiano.pdf (705.62 Ko)
Télécharger le fichier
Origin : Publisher files allowed on an open archive