About the interest of a contrastive study of Topolino comics and Le Journal de Mickey.
DE L'INTÉRÊT D'UNE ÉTUDE CONTRASTIVE DES BANDES DESSINÉES TOPOLINO ET LE JOURNAL DE MICKEY
We develop corpora composed of Journal de Mickey and Topolino issues published from thirty years ago to the present. These documents consist of a mix of originals and translations. Disney comics share one characteristic: the maintenance over time of a standard level of language that never gives way to a familiar language. As part of a linguistic study, it helps to remove what amounts to formal speech vs. informal, keeping only what comes to comic genre. Comics introduce new categories for writing reproducing oral language and disrupt the classical dichotomy written vs. spoken. Comic dialogues present disfluencies renderings rarely present in literature or press.
De l'intérêt d'une étude contrastive des bandes dessinées Topolino et Le Journal de Mickey. Nous élaborons des corpora composés de n° du Journal de Mickey et de Topolino des années Trente à nos jours. Ces documents sont composés d'un mixte de traductions et d'originaux. Les bandes dessinées (bd) Disney partagent une même caractéristique : le maintien au fil des années d'un niveau de langue standard qui ne cède jamais le pas à une langue familière. Dans le cadre d'une étude linguistique, cela permet d'écarter ce qui revient au niveau de langue formel vs. informel pour ne conserver que ce qui revient au genre bd. La bd introduit de nouvelles catégories pour l'écrit reproduisant l'oral et elle perturbe la dichotomie classique écrit vs. parlé. Les dialogues de bd présentent des rendus de disfluences rarement présents dans des textes littéraires ou de presse.
Fichier principal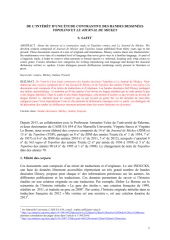 Article_S.SAFFI_Actes LICOLAR 2013.pdf (25.04 Mo)
Télécharger le fichier
Origin : Files produced by the author(s)