Modèle de l'e-brand equity pour une stratégie numérique dans les organisations
Regarding digital evolution, the aim of this article is to propose a model for e-brand equity that allows constructing, managing and measuring the e-identity, e-influence, e-reputation and e-brand factors in all kind of organizations. This research follows a first work that has consisted in settling the theory concepts when adding the e- to the basic notions of identity, brand, influence and reputation. We wonder now if organizations necessarily need a model for managing the digital dimension in order to gain the desired e-brand equity. We have sought to provide strategic factors to organizations in order to allow them to manage new communication and diffusion formats: blogs, Facebook, Youtube, Pinterest, Instagram, Tumblr, Twitter, Google+, Snapchat. Eventually, in our test regarding four fashion brands, we have observed the management of these factors that significantly participate in elaborating e-brand equity.
Au regard des évolutions digitales, l'objectif de cet article est de proposer un modèle du e-capital de marque (e-brand equity) permettant de construire, de gérer et de mesurer les facteurs d'e-identité, d'e-influence, d'e-réputation et d'e-image de marque dans les organisations. Cette recherche fait suite à une première phase de travaux visant à définir les concepts théoriques, notamment avec l'ajout du e- aux notions de base d'identité, d'image de marque, d'influence et de réputation. Ici nous nous demandons si un modèle pour gérer la dimension numérique est nécessaire aux organisations afin d'accéder au e-capital de marque qu'elles désirent. Nous cherchons à leur fournir les facteurs stratégiques afin de pouvoir gérer les nouveaux formats de communication et de diffusion : blogs, Facebook, Youtube, Pinterest, Instagram, Tumblr, Twitter, Google+, Snapchat. Dans notre test pour quatre marques de mode, nous observons et analysons la gestion de ces facteurs qui participent significativement à l'élaboration de l'e-capital marque (e-brand equity).
Fichier principal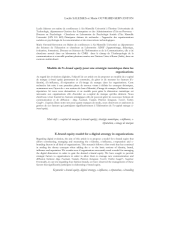 MTO volume 08 SALESSES OUVRARD SERVANTON Modèle de l'e-brand equity pour une stratégie numérique dans les organisations.pdf (316.04 Ko)
Télécharger le fichier
Origin : Files produced by the author(s)