Perspectives Offertes par la Radio Impulsionelle Ultra-Large Bande pour les Communications Sans-Fil à Courte Portée et Faible Consommation
Due to the gated nature of ultra-wideband impulse radio communications, it appears that the higher the data rate is, the more energy-efficient IR-UWB emitters and receivers are. Thus, impulse radio is intrinsically well-suited for short range applications when high data rate are required. However, many applications require low data rate until some bytes per second or less, integration of power-saving techniques becomes essential for impulse radio. These techniques indeed allows the static part of the power consumption to be drastically reduced and then to achieve an energy efficiency for every bit rate closed to its maximum normally obtained at high bit rate only. To do this, some design strategies for emitters and power management schemes for receivers are proposed and their efficiency is demonstrated on existing circuits.
En raison de la nature discontinue des communications basées sur la radio impulsionnelle, il apparaît que plus le débit de transmission des données est élevé et plus les émetteurs et récepteurs utilisés peuvent être économes en énergie. De ce fait, la radio impulsionnelle parait bien adaptée aux applications à courte portée notamment lorsque des débits élevés sont requis. Cependant, devant le nombre d'applications nécessitant uniquement des débits de quelques octets par seconde ou moins, l'implémentation de techniques permettant la minimisation de la consommation devient alors primordiale en radio impulsionnelle. En effet, ces techniques permettent de réduire considérablement la partie statique de la consommation et ainsi, de faire tendre un système vers son efficacité énergétique maximale constatée normalement qu'en haut débit. Pour ce faire, des stratégies de conception côté émetteur ainsi que des systèmes de minimisation de la consommation côté récepteur sont proposées, puis leur intérêt est démontré sur des circuits existants.
Fichier principal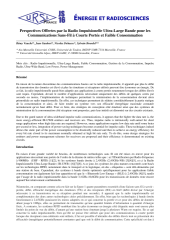 JS16-IRUWB-fullpaper-v3.pdf (848.25 Ko)
Télécharger le fichier
Origin : Files produced by the author(s)