Rehistorifier la postmodernité. La réécriture du mythe contre la fin de l'Histoire dans "Érec et Énide" de Manuel Vázquez Montalbán
In his last fiction published in 2002, Manuel Vázquez Montalbán pursued his novelistic commitment to "rehistorify postmodernity", through the rewriting of the medieval myth of Erec and Enide. We analyze here how he invests this gesture of rewriting as a journey towards the medieval origins of European culture, while establishing it as a device of critical analysis of several resolutely contemporary ends: end of history, end of transition Democratic and political ideologies of the twentieth century, but also the end of amorous utopia, even going so far as to envisage the possible end of the anthropological meaning of literary creation. His version of the myth created by Chrétien de Troyes thus configures the agreed and entertaining genre of the "campus novel" into a true "thesis novel".
En el último relato publicado en 2002 por Manuel Vázquez Montalbán, poco antes de su fallecimiento, el escritor plasma su apuesta literaria por "reinstaurar la historicidad en la posmodernidad" mediante la reactualización del mito medieval de Erec y Enide. En el presente trabajo se analiza cómo utiliza esta dinámica de reescritura para escenificar un retorno a las fuentes medievales de la cultura europea y para crear asimismo un dispositivo de análisis crítico de algunas aporías contemporáneas: fin de la Historia, fin de la Transición democrática española y de las ideologías políticas que dominaron en siglo XX, pero también fin de la utopía amorosa, e incluso fin posible del sentido antropológico de la literatura. Su versión del mito de Erec y Enide convierte el género popular del "campus novel" en una novela de tesis.
Dans la dernière fiction publiée de son vivant en 2002, Manuel Vázquez Montalbán poursuivait son engagement romanesque consistant à « réhistorifier la postmodernité », au travers de la réactualisation du mythe médiéval d'Érec et Énide. Nous analysons ici comment il investit ce geste de réécriture comme un cheminement vers les origines médiévales de la culture européenne, tout en l'instaurant comme un dispositif d'analyse critique de plusieurs fins résolument contemporaines : fin de l'Histoire, fin de la transition démocratique espagnole et des idéologies politiques du XXe siècle, mais aussi fin de l'utopie amoureuse, allant même jusqu'à envisager la possible fin du sens anthropologique de la création littéraire. Sa version du mythe créé par Chrétien de Troyes configure donc le genre convenu et divertissant du « roman universitaire » en véritable roman à thèse.
Fichier principal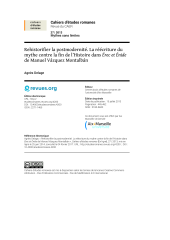 Réhistorifier la postmodernité.pdf (292.47 Ko)
Télécharger le fichier
Origin : Publisher files allowed on an open archive