El exilio de 1936 y la Tercera España. Ortega y Gasset y los "blancos" de parís, entre franquismo y liberalismo
This article follows the steps of a group of refugees from the Spanish Civil War, the liberal intellectuals exiled in Paris in 1936: José Ortega y Gasset (1883-1955), Gregorio Marañón, Ramón Pérez de Ayla, Pio Baroja or Azorín. After reviewing the circumstances of their escape and installation in Paris, the article goes on to question their attitude of political silence and their apparent stance on the equidistance of the two sides in the confrontation, i.e. Republicans and Nationalists. Some members of this so-called "third Spain", like Salvador de Madariaga and Alfredo Mendizábal, promoted attempts of mediation that Ortega did not support, as his correspondance with Lorenzo Luzuriaga confirms. The paper analyses the ideological justifications of these exiles, in order to understand how they combined their liberal convictions with their support de facto to the Francoist insurrection.
El presente artículo sigue los pasos de un grupo de exiliados del 36, refugiados en París durante la Guerra Civil. Toma como eje central la figura del filósofo José Ortega y Gasset (1883-1955), comparándola con las de otros de los liberales exiliados como Gregorio Marañón, Ramón Pérez de Ayala, Pío Baroja o Azorín. Repasa las circunstancias de su huída e instalación en la capital gala, antes de estudiar sus principales líneas de actuación, cuestionando su postura de aparente equidistancia y silencio político. Otros de los miembros de esta supuesta Tercera España –Salvador de Madariaga y Alfredo Mendizábal– promovieron desde el exilio tentativas de mediación a las cuales Ortega no quiso adjuntarse, como lo muestra su correspondencia con Lorenzo Luzuriaga. Se analiza la producción ideológica del filósofo y sus compañeros de exilio, para entender cómo compaginaron sus convicciones liberales con su apoyo de facto a la sublevación del 18 de julio.
Fichier principal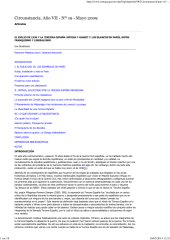 FOURMONT_2009_Ortega-y-gasset-y-los-blancos-de-paris_Circunstancia.pdf (241.83 Ko)
Télécharger le fichier
Origin : Files produced by the author(s)