Périodes arides du Quaternaire récent et déplacement des sables éoliens dans les Zibans (Algérie)
A band of wind-blown sand crosses the Ziban hills NW of Biskra in North-central Algeria. Comparable influxes of sand and gypseous dust took place several times during the Late Pleistocene and Holocene. They appear as dunes and as more or less indurated deposits of gypsum banked up against the flanks of the Ziban hills. Alternating with the deposits are alluvial sediments and palaeosoils developped during wetter phases. The las wet phase lasted from about 6300 to 4800 BP. Reactivation of the sand during the latest dry interval has resulted in a flow of sand from the NW to the SE, i.e. from Hodna towards the Sahara. The saharan dune fields are thus being supplied from their less arid margin.
Au NW de Biskra (Algérie), un courant de sables éoliens traverse les Zibans. Ce flux de sables et de poussières gypseuses a existé à plusieurs reprises au cours du Pléistocène supérieur et de l'Holocène. Il est matérialisé par des placages de dunes et des accumulations de gypse plus ou moins indurées au flanc des reliefs des Zibans. Des dépôts de périodes arides alternent avec des dépôts de périodes humides (paléosols, alluvions). La dernière période humide est datée de 6 300 à 4 800 ans BP environ. Avec l'aridification récente, ce mouvement de sables a repris du NW (Hodna) vers le SE (Sahara) et alimente les ergs du désert à partir des régions bordières.
Fichier principal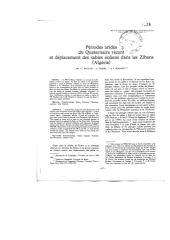 Périodes arides du Quaternaire récent...Zibans (Algérie).pdf (40.09 Mo)
Télécharger le fichier
Origin : Files produced by the author(s)