Etude du glissement du Bouffay (5 août 1981) : réflexions en vue de la prévision et de la prévention
The slump of Le Bouffay is one of the movements that occures in the cliffs of the Bessin (Calvados-France). On the 5th of August 1981, at 20 h 05, 1,5 million m3 slip. They are made with marls of Port, limestones of the Besin and clayx and sandstones of the Planet. They form a collapsed part behind an horizontal moved one that lifts and shears the strand. Calculations of stability are made on two models : one model of "poussée et butée" (push and thrust ?) and one model by the methode of perturbations on a non circular slip plane. They prove that the security coefficient F decreases of 3 to 5 % when the foot of the cliff moves 5 m backwards. Several studies are necessary to foresee and prevent new slips.
Le glissement du Bouffay fait partie des manifestations d'instabilité des falaises du Bessin (Calvados). Le 5 août 1981, à 20 h 05, 1,5 million de m3 de marnes de Port, calcaires du Bessin et argiles et grès du Planet glissent, formant une partie effondrée derrière une partie déplacée horizontalement qui a soulevé et cisaillé l'estran. Les calculs de stabilité à partir d'un modèle en poussée et butée et d'un modèle par la méthode de perturbations sur une surface non circulaire montrent que 5 m de recul du pied de falaise (soit le 1/4 du recul pour la période 1809-1975) font varier le coefficient F de sécurité de 3 à 5 %. La prévention nécessite de nombreuses études complémentaires.
Fichier principal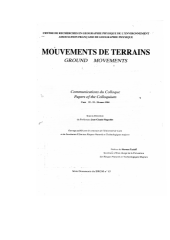 Etude du glissement du Bouffay (5 août 1981).pdf (49.17 Mo)
Télécharger le fichier
Origin : Files produced by the author(s)