Esquisse d'une histoire des mouvements de terrain dans le Calvados depuis deux siècles
A map of mass-movements in the Calvados has been established from examination of departemental archives. We especially used the "tache d'huile" method. This examination shows a contradiction between the small number of mass-movemnts indexed in the archives and the real frequency of mass-movements. It is due to their general banality. Despite of poorness of the sources, it is possible to reconstitute partly the evolution of wo cliffs sectors.
Une carte des mouvements de terrain dans le Calvados a été établie à partir du dépouillement des archives départementales. Pratiqué surtout par la méthode dite de la tache d'huile, ce dépouillement révèle une contradiction entre le petit nombre d'évènements répertoriés et la fréquence réelle des mouvements de terrain, en raison de la banalisation de ces derniers, sauf cas de "résonnance" journalistique. Malgré la médiocrité des sources, à l'exception des journaux locaux aux XIXème et XXème siècles, il a été possible de reconstituer en partie l'évolution de deux secteurs de côtes à falaises.
Fichier principal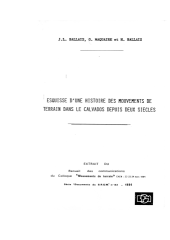 Esquisse d'une histoire des mouvements de terrain dans le Calvados.pdf (24.43 Mo)
Télécharger le fichier
Origin : Files produced by the author(s)