Sédimentation éolienne, pédogénèse et ruissellement au Pléistocène supérieur-Holocène dans les Ziban (Algérie)
The upper Pleistocene and Holocene deposits ot the Ziban Mts may be classified into three sequences respectively dated upper Pleistocene, middle Holocene and upper Holocene. A progressive drying up of the climate is suggested by the palaeosol succession, which grades from an oxidized to a gypsiferous soil, that is, by a gradual lengthening of the dry season, as demonstrated by the increase of aeolian deposits.
Les dépôts du Pléistocène supérieur-Holocène des Zibans s'organisent en trois séquences attribuées respectivement au Pléistocène supérieur, au Tardiglaciaire-Holocène et à l'Holocène supérieur. Il se dégage l'image d'une aridification depuis le paléosol rubéfié jusqu'au sol gypseux actuel, par décroissance des phases humides et aussi par croissance des phases sèches illustrées par le développement de la saltation des sables.
Fichier principal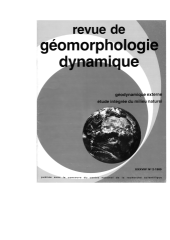 Sédimentation éolienne, pédogénèse et ruissellement... Ziban (Algérie).pdf (13.15 Mo)
Télécharger le fichier
Origin : Explicit agreement for this submission