Forms and deposits of the continental quaternary of the Saharan margin of Eastern Maghreb (tentative synthesis)
The Saharan margin of Eastern Maghreb extends from Auras in the West to the Gulf of Gab~s in the East. The Plio-Quaternary boundary is very complex in the West where it is characterized by the persistence of Tertiary sedimentation with the development of ablation forms, presence of crusts and the form ation of a lacustrine system. This is followed by the development of accumulation forms during the Middle Pleistocene and mostly during the Upper Pleistocene to Holocene with contemporaneous diminution in the gra~ulometry of the deposits. The evolution of gyperetes at the expense of calcretes crust suffered a partial reverse during the Middle Pleistocene. At this time a lacustrine phase settled down in the Algero-Tunisian Chotts (sebkhas). The end of the Middle-Pleistocene corresim~ded with a major climatic break with the disappearance of the calcrctes. By the end of the Upper Pleistocene, the gylx~etes attained their maximum development and latter disappeared during the Holocene.
-Ce brian provisoire s'appuie sur les connaissa~ces acquises depuis 25 ans dans les Auras, les Nemencha, la r6gion des grands Chotts alg6ro-tunisiens, le Dahar et la plaine c&ih'e de Gab~s. I1 permet de mettre en 6vidence roriginalit6 de la charni~re Plioc~ne-Quatemaire et le rSle des variations climatiques dans revolution quatemaire. La eharni~re Plioc~ne-Quatemaire monlre,d'une part, lapersistance de certaines earact~ristiques tertiaires (continuit~ de la s&iimentation : d6tritique darts la plaine c.&i/~re, laeustre darts la r6gion des grands Chotts) et, d'autre part, 1'apparition de nouveiles caract6ristiques (formation de crofites gypseuses dans lar6gion des grands ehotts et formation de crofites calcaires ailleurs). Les formes sont plus vari6es h rOuest (pseudo-rafia, glacis, coul6es boueuses) qu'~ rEst (p6diment ou glacis). Une r6duction du nombre des niveaux s'observe 6galement de rOuest (3 niveaux) ;~ rEst (1 seul niveau). Au Pl~istoe~e moyen, les formes d'accumulation (glacis d'accumulation dans les Aur/~s, terrasse dans le Dahar et dans laplaine c6ti~:re) commencent ~se substituer aux formes d'ablation (glacis d'ablationcouvert). AuPl6istochae sup6rieur-Holoc~e, c.eRe tendance se g6n6ralise (terrasse, c6ne alluvial et 6pandage) ~ rexception de la r6gion des grands Chotts tunisiens. De lam~me facron, la granulom6trie des d6p6ts, grossih'c au Pl6istoc~neinf6rieur et moyen, devient fine au Pl6istoc~ne sup6fieur (avec un gradient WE) et ~ dominante fine h l'Holoc~ne. Enfm, r6volution g6ochimique montre le d6veloppement progressif, au Pl6istoc.~ne moyen et surtout au Pl6istoc~e sup~eur, des crofites gypsenses 0imit6es aux conf'ms des grands Chotts au Pl6istoc~ne inf6rieur) aux ddpens des crofites calcaires; en effet, si les deux types de crofites altement encore au Pl~istoc~e moyen, les crofites gypsenses dominent totaleanent an Pl6istoc~ne sup6rieur (sauf dam les Matmata) avant de disparaitre au cours de rHoloc~ne. Cette 6volution met en 6vidence rexistence d'une coupure climatique fondamentale/, la fm du Pl6istoc~ne moyen et d'autres moins importantes t la fin du Pl6istoc~e inf6rieur et ~ la fin du Pl6istoc~ne sup6rieur. L'absence d'une phase lacustre au P16istoc~e moyen posait donc un probl~me majeur et se trouvait en contradiction avec les earact6ristiques elimatiques de cette p&iode. Des datations radiom6u'iques (T/U) ont pennis r6cemment de conf'Lrmer rexistence d'une telle phase.
Fichier principal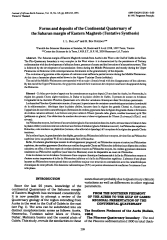 Forms_and_deposits_1991_V12.pdf (898.08 Ko)
Télécharger le fichier
Origin : Explicit agreement for this submission