Evolution holocène de la Tunisie saharienne et présaharienne
Tunisian saharian and presaharian Holocene period can be divided into four subperiods. Lower Holocene (10 000 B.P. to about 7 000 B.P.) is characterized by increasing humidity (stabilization of dunes, reappearance of lakes, accumulation of lower terrace and genesis of Holocene glacis). A short dry phase probably took place between 7 500 and 7 000 B.P. Middle Holocene (7 000 - 3 500 B.P. ?) is probably the climatic optimum subperiod (end of lower terrace building up, pedogenesis developping and evidences of good hydrological conditions). A progressive climatic aridification began during prehistoric upper Holocene (cutting-down of lower terrace and deflation). A probable short humid phase about 2 400 B.P. marked the beginning of historic upper Holocene that is characterized by building up then cutting-down of very low terrace and, last, by mobilization of aeolian sands due to desrtification.
On peut diviser l'Holocène de la Tunisie présaharienne en quatre sous-périodes. L'Holocène inférieur (10 000 B.P. à environ 7 000 B.P.) est caractérisé par la croissance de l'humidité (fixation des dunes, réapparition des lacs, accumulation de la basse terrasse et élaboration du glacis holocène). Il se termine peut-être par une courte phase sèche vers 7 5000 - 7 000 B.P. L'Holocène moyen (7 000 - 3 500 B.P. ?) est probablement la sous-période de l'optimum climatique (fin de l'accumulation de la basse terrasse, épanouissement de la pédogenèse et de l'hydrographie). A l'Holocène supérieur préhistorique commence l'assèchement climatique progressif (entaille de la basse terrasse, développement de la déflation). L'Holocène supérieur historique, après une possible courte phase humide vers 2 400 B.P., se caractérise par l'accumulation de la très basse terrasse, puis son entaille et enfin par la désertification qui remobilise les sables éoliens.
Fichier principal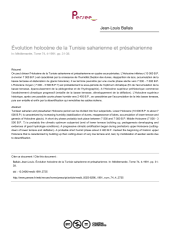 Evolution holocène de laTunisie saharienne et présaharienne.pdf (1.21 Mo)
Télécharger le fichier
Origin : Explicit agreement for this submission