Données nouvelles sur la morphogenèse et les paléo-environnements tardiglaciaires et holocènes dans la vallée de l'oued Chéria-Mezeraa (Nemencha, Algérie orientale)
The study of the evolution of the wadi Chéria-Mézeraa valley confirms the reality of a Late Glacial morphogenesis characterized by the accumulation of alluvial fans. During Holocene period, the lack of datings does not allow to recognize the stages of the palaeoclimatological models of the eastern Maghreb. Middle and Upper Holocene are well represented and allow to show the existence of a morphogenic crisis contemporary with that of the northern side of the Mediterranean during Bronze and Early Iron Ages. Evidence for a more favorable hydric balance exists about 2 400-2 200 B.P. Holocene is characterized too by three phases of downcutting in the wadis : one, poorly dated, before the Climatic Optimum, a second due to the Bronze and Early Iron Ages crisis, and the third from Medieval period up to now. Nevertheless, only two alluvial terraces were formed : the lower terrace whose very complex genesis began before 5 830 B.P. and ended after 1 350 B.P., and the very low terrace.
L'étude de l'évolution de la vallée de l'oued Chéria-Mezeraa confirme l'existence d'une morphogenèse tardiglaciaire caractérisée par l'accumulation de cônes alluviaux. L'Holocène moyen et supérieur est bien représenté et permet la mise en évidence d'une crise morphogénique entre environ 4 000 et 2 400 B.P., et d'une période à bilan hydrique plus favorable que l'actuel vers 2 400-2 200 B.P. L'Holocène se caractérise également par l'existence de trois phases d'entaille des cours d'eau mais elles n'individualisent que deux terrasses.
Fichier principal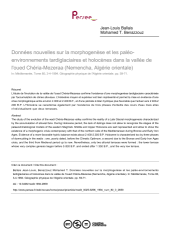 Données nouvelles sur la morphogenèse...Oued Chéria-Mezeraa (Nemencha, Algérie orientale).pdf (2.29 Mo)
Télécharger le fichier
Origin : Explicit agreement for this submission