Morphogenèse et géosystèmes au Pléistocène supérieur et à l'Holocène dans l'Extrême-Sud tunisien
In the southernmost part of Tunisia, the alluvial terrace attributed to Upper Pleistocene is poorly dated and covered with a travertine. The lower terrace, well dated, was accumulating during the Holocene humid phases. This accumulation occured mainly during Lower Holocene (characterized by local lakes and high levels of the main Saharan lakes). Middle Holocene accumulation was less important by contrast with the more humid mediterranean zone. The intermediate dry phase caused the stop of the filling up and, locally, a vertical incision. There is no very low Holocene historic terrace.
Dans l'étage saharien de l'extrême-sud tunisien, la terrasse alluviale attribuée au Pléistocène supérieur, mal datée, se termine par une accumulation travertineuse. La basse terrasse, bien datée, s'élabore lors des phases humides de l'Holocène. Cette accumulation se place principalement pendant l'Holocène inférieur (contemporain de lacs locaux et des hauts niveaux des lacs sahariens) et, à un moindre degré, pendant l'Holocène moyen, alors que cette seconde phase est aussi importante que la première dans les étages plus humides du climat méditerranée. La phase sèche intermédiaire provoque l'arrêt de l'accumulation, voire son entaille. Il n'existe pas de très basse terrasse holocène historique.
Fichier principal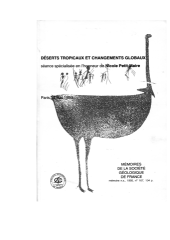 Morphogenèse et géosystèmes... Extrême-Sud tunisien.pdf (36.97 Mo)
Télécharger le fichier
Origin : Explicit agreement for this submission