Conquêtes et dégradation du milieu au Maghreb oriental pendant l'Antiquité et le Moyen Age
The autor tries to demonstrate that, during Antiquity and the Middle Ages, the fluctuations of geosystems, and the spreading of soil erosion in particular, are due to a specific combination of climatic and anthropogenic factors. A climatic fluctuation that tends to increase the intensity of rains, maybe of the total annual precipitations, can be effective on the slopes only if these slopes have been gragilized by the degradation of vegetation and by ploughing. In other words, phases of intense agricultural colonization or of spreading of the cultivated surface are very favourable to soil erosion. On the other hand, the invasion periods, in which nomadic spheherds play an important role, globally cause a retraction of cultivated surfaces and a spreading of natural vegetation or of pastures that limit soil erosion. Local exceptions can exist in irrigated areas or on terraced cultivation areas in the mountains.
L'auteur tente, pour les périodes antique et médiévale, de démontrer que les fluctuations des géosystèmes et le développement de l'érosion des sols en particulier, sont dues à une combinaison climato-anthropique particulière et non à une simple invasion de nomades.
Fichier principal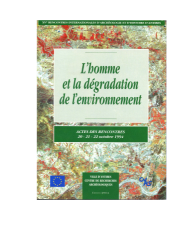 Conquêtes et dégradation du milieu au Maghreb oriental pendant l'Antiquité et le Moyen Âge.pdf (30.82 Mo)
Télécharger le fichier
Origin : Explicit agreement for this submission