La limite Pliocène-Pléistocène en Afrique du Nord et au nord-ouest du Sahara
The plio-pleistocene period which covers a geological long time is assimilated by few authors at the villafranchian period. It is situated at the boundary between Pliocene and early Pleistocene. It is characterized by alluvial thick formations (ranas) with blocks and big pebbles, by ferralitic grounds, weathering of cristalline rocks and old thick calcareous crusts (Moulouyen). These pedologic formations show climatic changes between upper Tertiary and early Quaternary. All the plio-villafranchian formations are situated above the quaternay alluvial and colluvial levels. The topography and drainage patterns are different between plio-villafranchian and quaternary period. Finally, these dposits are deformed by villafranchian and quaternary orogenic phases.
La période plio-pléistocène couvre un temps géologique compris entre la fin du Tertiaire et le début du Quaternaire. Certains auteurs l'assimilent au Villafranchien. Elle est caractérisée par d'épaisses formations alluviales (ranas), véritables cônes de déjection démantelés formés de blocs et de gros galets cimentés par des croûtes calcaires résistantes. Dans ces accumulations, les roches cristallines sont altérées. Tous ces dépôts sont situés au-dessus des formations quaternaires. Ils ont été déformés par la tectonique villafranchienne et quaternaire. Enfin, la topographie et le drainage, à cette époque, étaient, sur les piémonts des montagnes atlasiques, différents du drainage quaternaire et actuel.
Fichier principal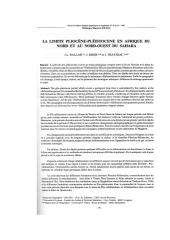 Limite Pliocène-Pléistocène.pdf (37.9 Mo)
Télécharger le fichier
Origin : Explicit agreement for this submission