Datations au 137Cs, 134Cs et 210PB de dépôts de crues du XXe siècle
This study was undertaken to test the application of environmental radioactive tracers to verify that the general trend for sediment accumulation in floodplain, often initiated during antique time, is still processing. Three sediment cores have been studied, collected on the floodplains of Rhône river tributaries : the Gardon d'Anduze river and Ouvèze river. We present the different tracers available in this environment. Artificial radioisotopes 137Cs and 134Cs make it possible to identify the extent of the last major floods. The natural radioisotope 210Pb confirms these observations but does not enable to date the previous ones.
Une série de carottages a été entreprise dans le lit majeur de cours d'eau affluents du Rhône. Le but de ces recherches est de démontrer que la tendance à l'accumulation, souvent initiée pendant la période antique, voire dès le Néolithique, continue au cours du XXe siècle. Jusqu'à maintenant, trois carottages ont été effectués : un dans le lit majeur du Gardon d'Anduze et deux dans celui de l'Ouvèze. Les analyses sédimentologiques permettent de reconstituer les phases d'accumulation récentes. Les séquence supérieures ont pu être datées en utilisant plusieurs isotopes radioactifs naturels et artificiels, en particulier 137Cs et 134Cs. Dans le lit majeur du Gardon d'Anduze, la séquence supérieure, constituée de sables grossiers, est formée des dépôts de la crue de 1958, la plus importante du XXe siècle, d'une épaisseur d'environ 30 cm. Dans le lit majeur de l'Ouvèze à Vaison-la-Romaine, les 31 cm supérieurs, constitués de sables fins, ont été déposés par la crue du 22 septembre 1992, la plus grande crue probablement depuis 1616. Hélas, le 210Pb ne donne pas de résultats fiables, en raison de la discontinuité de la sédimentation. Ainsi, il n'a pas été possible de dater les dépôts antérieurs à 1955. D'autres carottages sont prévus dans le lit majeur de la Meuse afin des tester ces résultats préliminaires et d'affiner la méthode.
Fichier principal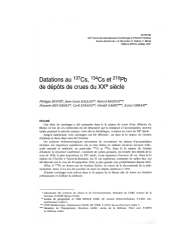 Datation Cs et Pb.pdf (26.98 Mo)
Télécharger le fichier
Origin : Explicit agreement for this submission