Polémique autour de la datation de la terrasse rharbienne. Apport de la très basse terrasse de l'Ouerrha, Rif (Maroc)
The Rharbian corresponds to the Holocene of the Moroccan Quaternary chronology. However, specialists do not all agree about the real age of this stage. The polemic around the dating of this terrace comes from the attribution by some scientists of the Rharbian stage to the historical. In the Ouerrha valley, several dates were obtained for the rharbian terrace. The 14C dating and the potische shard enable us to be more precise about the age of this rharbian Holocene period. The rharbian terrace is the main holocene formation : it would have started gathering from 9,5 ky up to beyond 2,2 ky BP.
Le Rharbien correspond à l'Holocène de la chronologie du Quaternaire marocain. Néanmoins, l'âge réel de cet étage ne fait pas l'unanimité parmi les spécialistes. La polémique autour de la datation de cette terrasse découle de l'attribution, par certains chercheurs, de l'étage rharbien à l'époque historique. Dans la vallée de l'Ouerrha, plusieurs dates ont été obtenues pour la terrasse rharbienne. Les datations 14C et les tessons de céramique permettent de mieux préciser l'âge de cette terrasse rharbienne. Dans d'autres secteurs du Maroc, les âges obtenus se concentrent sur la période de l'Holocène inférieur et moyen. La terrasse rharbienne est la formation holocène principale : elle aurait commencé à s'accumuler à partir de 9,5 ka BP jusqu'au-delà de 2,2 ka BP.
Fichier principal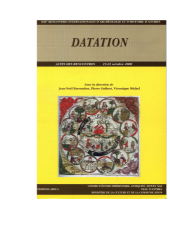 Polémique autour de la datation de la terrasse rharbienne... (Maroc).pdf (24.66 Mo)
Télécharger le fichier
Origin : Explicit agreement for this submission