Problems of the determination of the external limit of the flood zone in the mediterranean french "Midi"
Les problèmes de la détermination de la limite externe de la zone inondable dans le midi méditerranéen français
Through the study of the various units which constitute the alluvial plain, the delimiting flood risk zone of the river can be easily defined. However, it is sometimes more difficult to precisely determine its external limit. A first outline of typology of the various contacts between the flood hazard zone and the embankment is proposed here. Moreover, for each new form or new contact highlighted, a translation from a cartographic point of view is proposed in agreement with graphic semiology and constraints necessary to the elaboration of the official documents like French risk prevention plans of floods (PPRI) and atlases of flood hazard zones.
A travers l 'étude des différentes unités qui constituent la plaine alluviale, la zone inondable du cours d'eau peut être aisément définie. Cependant, sa limite externe est parfois plus difficile à déterminer précisément. Une première ébauche de typologie des différents contacts entre la zone inondable et l'encaissant est proposée ici. De plus, pour chaque nouvelle forme ou nouveau contact mis en évidence, une traduction d'un point de vue cartographique est proposée en accord avec la sémiologie graphique et les contraintes liées à l'élaboration des documents réglementaires comme les Plans de Prévention des Risques d'Inondation et les Atlas de Zones Inondables.
Fichier principal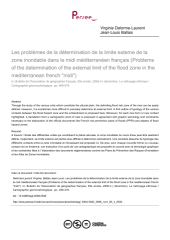 Les problèmes de la détermination de la limite externe de la zone inondable....pdf (1.61 Mo)
Télécharger le fichier
Origin : Explicit agreement for this submission