Des oueds mythiques aux rivières artificielles : l'hydrographie du Bas-Sahara algérien
New researches on Bas-Sahara hydrography have been performed. They show that mythical wadis such as wadi Igharghar from south of the Grand Erg Oriental, wadi Mya close to Ouargla and wadi Rhir do not exist. Among the functional real wadis, those that run from the saharan Atlas mountains are best known, due to their dams. Those of the M'Zab ridge are still poorly studied. Fossil real wadis have been just discovered in the Souf region, north of the Grand Erg Oriental. The only genuine perennial rivers, such as the grand drain, are fed by oasis collature waters and towns rainwater networks.
À la lumière de recherches récentes, l'hydrographie du Bas-Sahara est revisitée. Il est montré que les oueds mythiques, Igharghar à partir du sud du Grand Erg Oriental, Mya au niveau de Ouargla et Rhir n'existent pas. Parmi les oueds réels fonctionnels, on commence à mieux connaître ceux qui descendent de l'Atlas saharien avec leurs barrages et beaucoup moins bien ceux de la dorsale du M'Zab. Des oueds réels fossiles viennent d'être découverts dans le Souf, à l'amont du Grand Erg Oriental. Les seules vraies rivières, pérennes, tel le grand drain, sont celles alimentées par les eaux de collature des oasis et des réseaux pluviaux des villes.
Fichier principal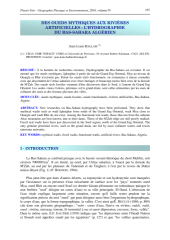 Des oueds mythiques aux rivières artificielles - L'hydrographie du Bas-Sahara.pdf (1.23 Mo)
Télécharger le fichier
Origin : Explicit agreement for this submission