Synthèse de 10 années de recherche autour de la méthode de cartographie hydrogéomorphologique dans le département de l'Aude à la suite des inondations de novembre 1999
The spatial and human magnitude of the floods in November, 1999 has stimulated a decade of research in river geomorphology. Studies that have been carried out or are now in progress are linked to the contributions of the river geomorphology in the knowledge and in the determination of flood-risk areas close to a stream. The present communication has for objective to establish a synthesis of the results obtained through the various collaborations started after the floods of November, 1999. This synthesis carries in particular on : (1) the results obtained by the application of the method of hydrogeomorphological mapping : what is the relevance of the hydrogeomorphological influence in front of such floods ? (2) The works relative to the development of a method of hazard determination taking into account the contributions of the geormorphology and the hydrology-hydraulics (elaboration of an integrated method) (3) The works relative to detailed analysis of the essential of the alluvial plain with researches led at the same time on the middle channel and on the exceptional floodplain discovered during the various field works. The research works introducde in the department of the Aude were able to be confirmed and supported on the department of the Gard which underwent catastrophic floods during September 2002 when the team also intervenes for the realization of these various research works.
L'ampleur des inondations de novembre 1999, tant humaine que spatiale, est à l'origine d'une décennie de recherche en géomorphologie fluviale. Les travaux réalisés ou en cours sont relatifs aux apports de la géomorphologie fluviale à la connaissance et à la détermination des zones inondables attachées à un cours d'eau. La présente communication a pour objectif d'établir une synthèse des résultats obtenus à travers les différentes collaborations engagées au lendemain des inondations de novembre 1999. Cette synthèse porte notamment sur : (1) les résultats obtenus par l'application de méthode de cartographie hydrogéomorphologique : quelle est la pertinence de l'emprise hydrogéomorphologique face à de telles inondations ? (2) les travaux relatifs à la mise au point d'une méthode de détermination de l'aléa en prenant en compte les apports de la géomorphologie et de l'hydrologie-hydraulique (élaboration d'une méthode intégrée) (3) les travaux relatifs à l'analyse fine des formes constitutives de la plaine alluviale avec des recherches menées à la fois sur les lits moyens et sur les lits majeurs exceptionnels découverts au cours des différents travaux. Les travaux de recherche initiés dans le département de l'Aude ont pu être confirmés et étayés sur le département du Gard qui a subi des inondations catastrophiques au cours du mois de septembre 2002 où l'équipe intervient également pour la réalisation de ces différents travaux de recherche.
Fichier principal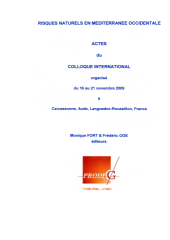 Synthèse de 10 années de recherche autour de la méthode hydrogéomorphologique.pdf (20.3 Mo)
Télécharger le fichier
Origin : Explicit agreement for this submission