Zehn Jahre nach der Entdeckung des ausserordentlichen Überschwemmungsgebietes versuchen wir, eine erste Bilanz zu ziehen
Exceptionnal high water beds. A first assessment
Le lit majeur exceptionnel : premier bilan
Wir wollen zwischen dem, was bekannt ist und zwischen dem, was wir noch nicht wissen, klar unterscheiden. Diese Erscheinung ist heute in zwei verschiedenen klimatischen Gebieten anerkannt : in der mediterranen Zone und im tropischen Tockenklima. Wirklich analysiert und beprobt wurde sie lediglich im französischen Mittelmeeraum und im ariden Tunsesien. In Hinblick auf das überschwemmungsrisiko ist es notwendig, das ausserordentliche überschwemmungsgebiet sowohl von der gewöhnliche Aue als auch von den holozänen Alluvialterrasse zu unterscheiden. Das Literaturstudium zeigt, dass das ausserordentliche überschwemmungsgebiet bei vielen Fliessge wässern und in unterschiedlichen Klimagebieten wahrscheinlich oft mit der überschwemmbaren niedrigenAlluvialterrasse verwechselt würde. Analysen aus verschiedenen Untersuchungsbereichen ermöglichen es uns, bestimmte Eigenschaften dieser überschwemmungsform genauer zu beschreiben.
Exceptional high water bed has been discovered ten years ago. Today, we try a first assessment about this fluvial form that distinguishes between knowledges and ignorances. This form has been recognizes in two different climatic zones : Mediterranean environment and dry tropical environment but it has really been studied and sampled only in French Mediterranean environment and in arid Tunisia. In the flood risk perspective, it is necessary to characterized exceptional high water bed compared with high water bed on one hand and Holocene alluvial terraces on the other hand. Studying literature shows it has probably been mixted up with the so-called "low flooded terrace" on numerous watercourses and in various environments. Analyses performed on several studied sectors allow to precise some characteristics of those liable to floodng forms.
Dix ans après sa découverte, nous tentons un premier bilan concernant cette forme fluviale qu'est le lit majeur exceptionnel, en faisant la part entre les connaissances et les ignorances. Actuellement, cette forme a été reconnue dans deux domaines climatiques distincts : le domaine méditerranéen et le domaine tropical sec, mais elle n'a été réellement étudiée et échantillonnée que dans le Midi méditerranéen français et en Tunisie aride. Dans la perspective du risque d'inondation, il est nécessaire de distinguer le lit majeur exceptionnel à la fois du lit majeur ordinaire et des terrasses alluviales holocènes. L'étude de la bibliographie montre qu'il a probablement été souvent confondu avec la "basse terrasse inondable" sur de nombreux cours d'eau et dans des domaines climatiques variés. Les analyses réalisées sur plusieurs secteurs d'études permettent de préciser certaines caractéristiques de ces formes inondables.
Fichier principal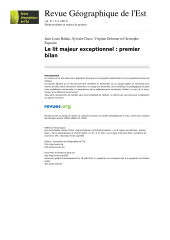 Le lit majeur exceptionnel - premier bilan.pdf (3.1 Mo)
Télécharger le fichier
Origin : Explicit agreement for this submission