Ta'zie (Religious Theatre) vs Noruz (the New Year and its Rituals). The Politics of the Intangible Cultural Heritage of Humanity in Iran and at UNESCO
Above and beyond a legitimate concern with preserving intangible cultural " treasures " and " masterpieces, " what are the extra-heritage issues that tend to slip beneath UNESCO'S applications for recognition and listing? Through an examination of recent projects presented by Iran, I propose to carry out a modest ethnography that addresses the meaning of these applications, ethnography being in the words of Clifford Geertz (Geertz 1983: 152), " an enterprise (…) whose aim is to render obscure matters intelligible by providing them with an informing context.
Au-dessus et au-delà du souci légitime de sauvegarder les « trésors » et les « chefs-d'oeuvre » culturels immatériels, qu'en est-il des autres questions patrimoniales qui tendent à échapper aux candidatures présentées à l'UNESCO pour obtenir reconnaissance et inscription sur les listes ? En examinant de récents projets présentés par l'Iran, l'auteur se propose d'entreprendre une modeste ethnographie portant sur la signification de ces candidatures, l'ethnographie étant, comme le dit Clifford Geertz (Geertz 1983 : 152) « une entreprise […] visant à rendre intelligibles des phénomènes obscures en procurant des informations sur leur contexte ».
Fichier principal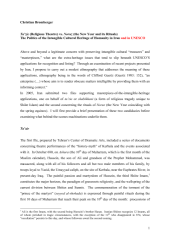 Ta'zie.Engl.Aug 25 08 copie 2.pdf (174.22 Ko)
Télécharger le fichier
Origin : Files produced by the author(s)