Since 2000 in Huelva, Andalusia, the system of "contracts in origin" allows farmers to hire foreigners as seasonal hands for picking strawberries. Workers were mainly recruited in Poland, Romania, and Morocco. The target are people with a profile "suitable for strawberries", in other words, middle-aged women with family ties in their homeland. Once the season is over, these women have to go back to their homeland and wait for farmers to extend a new invitation for the next picking season. Access to the European labor market depends on the employer, as does the permit to come back. By creating a vulnerable legal status and playing on economic inequalities between countries, this recruitment "in origin" provides an abundant, flexible supply of low-cost farm hands, which are considered indispensable by growers for making greenhouse agriculture profitable.
Desde 2000 en Huelva (Andalucía), un programa de migración temporal nacional llamado contratación en origen esta utilizado por los productores de fresa para seleccionar temporeros extranjeros para recoger su producción. La contratación tuvo lugar principalmente en Polonia, Rumanía y Marruecos. Los empresarios eligen personas con un perfil "adecuado a la fresa" es decir mujeres entre 20 y 60 años con cargas familiares en su país de origen. Una vez acabada la temporada, estas mujeres tienen que regresar y esperar una invitación del agricultor para el siguiente año. El acceso al mercado de y el derecho de estancia dependen del empleador. Al crear una precariedad jurídica legal y al apoyarse en las desigualdades económicas existentes entre los países de origen y España, la contratación en origen proporciona una mano de obra abundante, flexible y barata considerada por el sector agrícola como indispensable para la rentabilidad de este monocultivo bajo plástico.
A Huelva, en Andalousie, depuis 2000, le système des « contrats en origine » permet aux exploitants de fraises d'employer des saisonniers étrangers pour récolter leur production. Le recrutement des travailleurs a eu lieu majoritairement en Pologne, en Roumanie et au Maroc. La sélection vise des personnes au profil « adéquat à la fraise », c'est-à-dire des femmes d'âge moyen, ayant des obligations familiales dans leur pays d'origine. Une fois la saison terminée, ces femmes doivent rentrer chez elles et attendre une éventuelle invitation de l'agriculteur pour la saison suivante. L'accès au marché du travail européen ainsi que le droit au séjour dépendent de l'employeur. En créant une précarité juridique légale et en se servant des inégalités économiques entre pays, la contratación en origen permet de fournir la main-d'œuvre abondante, flexible et bon marché et considérée par les agriculteurs comme indispensable à la rentabilité de cette production agricole sous serre.
Fichier principal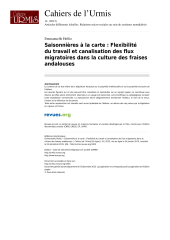 Saisonnières à la carte.pdf (1.92 Mo)
Télécharger le fichier
Origin : Files produced by the author(s)