Entre démocratie et oligarchie Les enjeux politiques de la définition du dèmos à Athènes au ve siècle.
The Athenian discourse on the people (dèmos) is closely associated with the discourse on democracy, both because of their etymological link and because the image of the people which the political speech conveys constantly interacts with the judgment on the functioning and value of democracy. Actually, if, in Greek language, dèmos is but a term among others to indicate "people", it is around this word that focuses a debate which crosses all the political thought: democrats and oligarchs offer a strongly contrasted image of people in Athens. From Herodotus to Thucydides and from Aristophanes to Pseudo-Xenophon it is possible to see the beginnings of a debate on the notion of "people" which, through Plato and Aristotle, still finds echoes in the contemporary period.
Le discours athénien sur le peuple (dèmos) est indissociable du discours sur la démocratie, à la fois en raison de leur lien étymologique et parce que l'image du peuple que véhicule le discours politique est en constante interaction avec le jugement porté sur le fonctionnement et la valeur de la démocratie. De fait, si dèmos n'est qu'un terme parmi d'autres pour désigner le peuple en grec, c'est autour de ce mot que se cristallisent les enjeux d'une polémique qui traverse toute la pensée politique : que ce soit à propos de sa définition (ensemble des citoyens ou « populace »), de sa fonction politique (gouvernant ou gouverné), de sa valeur morale et civique (capacité politique et économique ou position de profiteur inutile, incapable de réflexion), démocrates et oligarques offrent une image fortement contrastée du peuple athénien. D'Hérodote à Thucydide, d'Aristophane au Pseudo-Xénophon on voit émerger les prémices d'un débat sur la notion de « peuple » qui, à travers Platon et Aristote, trouve encore des échos dans la période contemporaine.
Fichier principal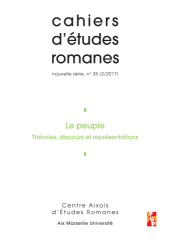 Caire_CER35Peuple.pdf (319.26 Ko)
Télécharger le fichier
Origin : Publisher files allowed on an open archive