Qualifier pénalement l'inceste : les incertitudes du droit pénal français contemporain
Once a specific crime, incest became a particular case of sexual offences in the modern French penal code. Today the issue is about the penal treatment of incest, its penal qualification is far from obvious. Usually, a problem related to the physical proof is raised: lack of physical marks, outdated facts, lack of witness. There are also uncertainties to aim for incestuous family links, and to provide evidence of a minor victim's non-consent. This article is based on a corpus of 27 legal cases of child sexual abuses within families. These cases have been judged in 2010 by French children's courts or correctional courts. We study how the criminal law is applied to punish incest. The analysis focused on disparities of the incest penal qualification. Some family ties are considered incestuous, but others are not because out of the direct kinship. The article also highlights that age category prevails over kinship. Thus, the statutory non-consent related to age incorporates incest inside genealogic and unequal relationships adult/minor.
Autrefois crime spécifique, l'inceste est devenu un cas particulier des infractions sexuelles dans le code pénal français contemporain. Il existe aujourd'hui un enjeu sur son traitement pénal, le qualifier pénalement ne va pas de soi. On invoque en général un problème de preuves matérielles des faits : faits anciens, absence de témoin, pas de trace physique. Mais au-delà, il y a des incertitudes à viser les liens de famille incestueux et établir la preuve du non-consentement du mineur victime d'inceste. Cet article s'appuie sur un corpus de 27 affaires de violences sexuelles intrafamiliales sur mineur jugées au cours de l'année 2010, au sein de tribunaux pour enfants et tribunaux correctionnels français. Il examine les modalités d'application du droit pénal pour incriminer et sanctionner l'inceste. Les dossiers judiciaires témoignent de disparités importantes dans la qualification pénale. Certains liens de familles sont considérés comme incestueux, d'autres non dès lors que l'on sort de la parenté en ligne directe. L'article met également en lumière que l'âge prévaut sur les liens de famille. Ainsi, se confirme l'émergence d'un non-consentement statutaire lié à l'âge qui assimile l'inceste dans un rapport généalogique et inégal majeur/mineur.
Fichier principal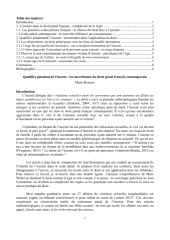 ROMERO_Article_Inceste.pdf (487.55 Ko)
Télécharger le fichier
Origin : Files produced by the author(s)