Technical Efficiency of Cassava's Producers in the Hinterland of Kinshasa, Democratic Republic of Congo
This study aims at identifying the main determinants of efficiency of cassava producers in the hinterland of Kinshasa. Data used were from a sample 202 farm-household survey randomly selected. The Data Envelopment Analysis was applied to compute the efficiency score. The truncated regression model was used to identify factors associated with the efficiency score distribution. The results of estimations revealed that only few farm-households have reached the frontier of best practice and therefore can be viewed as technically efficient. The results of truncated regression showed that landholding property, associations, formal education of household head and farm size are the key drivers of technical efficiency differentials between producers.
Ce papier se propose de mesurer l'efficacité technique des producteurs de manioc dans l'hinterland de Kinshasa d'une part ; et d'autre part, d'identifier ses principaux déterminants. Les données utilisées proviennent d'une enquête administrée auprès de 202 producteurs. La méthode d'enveloppement de données est appliquée pour mesurer les scores d'efficacité technique sous les hypothèses de rendements d'échelle constants (REC) et rendements d'échelle variables (REV). Par ailleurs, le modèle de régression tronquée intervient pour expliquer la variance de scores d'efficacité. Les résultats révèlent un niveau élevé d'inefficacité des producteurs de manioc. En effet, le score moyen d'efficacité est 0.318 et 0.272 respectivement sous REV et REC. Cela suggère que l'efficacité technique des producteurs de manioc de l'hinterland de Kinshasa peut être améliorée de 0.73 sous l'hypothèse REC et de 0.68 sous l'hypothèse REV. Le score moyen de l'efficacité d'échelle est largement supérieur au score moyen d'efficacité technique sous REC et REV, soit 0.902. Ce résultat implique que l'inefficacité dans la production de manioc observée dans cette étude est davantage liée à la mauvaise allocation de ressource qu'à la taille de la culture. Les résultats issus du modèle de régression tronquée révèlent que le niveau d'instruction du producteur, la possession de terres arables en propriété et la taille de la ferme affectent positivement la distribution des scores d'efficacité technique.
Fichier principal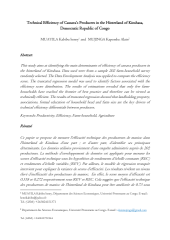 Article Efficiency of Cassava.pdf (309.81 Ko)
Télécharger le fichier
Origin : Files produced by the author(s)