EXPERT CUSTOMERS, COME WITH YOUR SPOUSE OR A FAMILY MEMBER! AN ANALYSIS OF THE MODERATION EFFECT OF STORE KNOWLEDGE ON THE RELATIONSHIP BETWEEN THE TYPE OF COMPANION AND THE MONEY SPENT
CLIENTS EXPERTS, VENEZ ACCOMPAGNES D'UN MEMBRE DE VOTRE FAMILLE ! UNE ANALYSE DE L'EFFET MODERATEUR DE LA CONNAISSANCE DU MAGASIN SUR LA RELATION ENTRE L'ACCOMPAGNEMENT ET LE MONTANT D'ACHAT.
Customers may experience shopping alone or with companions. When customers are with companions, they spend more time in store and more money than alone. What is the influence of store knowledge on these effects? This research aims at examining the moderator effect of store knowledge on the relationships between companions, in-store time and purchase amount. We consider different companion categories: friends, spouse, other family members. This research establishes that the difference of in-store time between lonely customers versus accompanied customers (spouse or family member) is more important when store knowledge increases and in-store time impacts the purchase amount.
Les expériences de magasinage sont des expériences vécues seul ou accompagné. Avec un accompagnant, un client passe plus de temps en magasin et dépense plus. Qu'en est-il selon le type d'accompagnant (ami, conjoint, famille) ? Quand la connaissance du magasin du client varie ? L'objectif de cette recherche est de mesurer, en fonction du type d'accompagnant, l'effet modérateur de la connaissance du magasin sur la relation entre accompagnement, temps passé en magasin et montant d'achat. Cette recherche montre que l'écart de temps passé en magasin entre client accompagné (conjoint ou membre de la famille) versus seul est d'autant plus fort que les clients connaissent bien le point de vente, le temps passé impactant alors le montant d'achat.
Fichier principal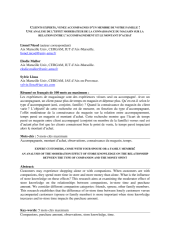 Analyse de l'effet moderateur de la connaissance du magasin sur la relation entre accompagnement et montant d'achat.pdf (261.5 Ko)
Télécharger le fichier
Origin : Files produced by the author(s)