Prénasalisation des plosives voisées initiales dans la parole apraxique : une étude aérodynamique pilote
This preliminary study examines nasal leak during the production of Spanish word-initial stops in an apraxic speaker in order to determine if this motor adjustment is used as a compensatory mechanism aimed at facilitating the initiation of voicing in stops. The results show that /b d g / correctly identified as 'voiced' exhibit significantly larger amounts of nasal airflow during the stop closure than those identified as 'voiceless' ([-voice] and devoiced stops). These results suggest that prenasalization may be an adaptive mechanism to overcome the frequent devoicing errors of apraxia. Nasal leak during voiced /b d g/ –but not their voiceless counterparts– is significantly larger (i) in phrase initial vs non-phrase initial position, and (ii) when followed by tautosyllabic nasal (e.g. banco). On the other hand, no effect of word frequency on the occurrence of nasal leak in voiced stops was found suggesting that this compensatory strategy takes place at the phonetic level of encoding.
Cette étude exploratoire examine le débit d'air nasal dans la production de consonnes plosives chez une locutrice apraxique hispanophone, dans le but de déterminer si elle utilise la nasalité comme mécanisme compensatoire pour faciliter l'initiation du voisement. Les résultats mettent en évidence que les plosives initiales identifiées comme [+voisé] présentent un débit d'air nasal significativement plus élevé que les consonnes [-voisé] chez cette locutrice, ce qui va dans le sens de l'hypothèse d'une prénasalisation comme un mécanisme adaptatif face au déficit du voisement typique de cette pathologie. Cette stratégie est particulièrement favorisée (i) en position initiale de phrase et (ii) par la présence d'une consonne nasale suivant la plosive cible, reposant sur une anticipation de nasalité de la coda dans l'attaque syllabique (ex. banco). Par ailleurs, l'absence d'effet de la fréquence lexicale sur l'occurrence de la prénasalisation des plosives [+voisé] suggère que cette compensation opèrerait au niveau phonétique d'encodage de la parole.
Fichier principal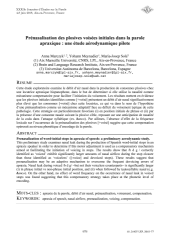 Marczyk_2018_JEP.pdf (3.55 Mo)
Télécharger le fichier
Origin : Files produced by the author(s)