Du rouge pour le Noir. Du corail méditerranéen pour la traite négrière au XVIIIe siècle
In the eighteenth century, European observers highlighted the passion of the people of black Africa for Mediterranean red coral. This product appeared in the cargoes of European slave ships either in the form of branches or in polished form and became part of the first globalization of commerce. It was especially important in trade between Europe and Asia. Marseille contributed to these exchanges thanks to nearby coral reefs and the French Royal Company of Africa's control of those in North Africa. The coral was then cut and polished in workshops and factories around the city. It accounted for a small portion of the merchandise boarded on Marseilles ships engaged in the Atlantic slave trade. Traders also served as links between the French Royal Company of Africa and the East India Company (Lorient) to disseminate part of the Mediterranean production. Coral was used to buy slaves but also as a "product appeal" to begin a negotiation.
Au xviiie siècle des observateurs soulignent la passion des populations d'Afrique noire pour le corail rouge de Méditerranée. En branche ou travaillé, ce produit figure dans les cargaisons des navires négriers européens. Très tôt contrôlé par des marchands et de puissantes compagnies, le corail participe à la première mondialisation des échanges. Il prend une place originale dans l'intensification des relations avec l'Asie. Marseille contribue à ces échanges à partir de ressources locales ou exploitées dans les concessions d'Afrique du Nord par la Compagnie royale d'Afrique. Le corail est transformé dans de proches ateliers et manufactures. Il compose une petite partie des marchandises de navires marseillais qui se livrent à la traite négrière. Des négociants servent aussi de liens entre la Compagnie royale d'Afrique et la Compagnie des Indes orientales (Lorient) pour diffuser une part de la production méditerranéenne. Le corail sert à des achats d'esclaves mais aussi de << produit d'appel >> pour amorcer une négociation.
Fichier principal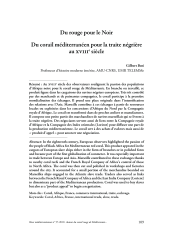 Rives57-Buti-109-127.pdf (1.48 Mo)
Télécharger le fichier
Origin : Publisher files allowed on an open archive