Effet du champ de vision sur le comportement de conduite en moto : implication pour la conception des casques
While helmet wearing reduces the severit of injuries in motorcycle crashes, it may also increase the likelihood of getting involved into a traffic accident through a reduction in the rider's field of view. We thus investigated the perceptual effects of helmet wearing when riding a motorcycle. The task consisted of negotiating curves in a fixed-based motorbike simulator while the helmet visor vertical dimension and need to check the handlebar-mounted speedometer were manipulated. Decreasing the vertical aperture below roughly 30 deg significantly impaired a rider's ability to maintain their lane position and speed; with the effect of aperture being significantly greater when speedometer checking was required. The present findings help to quantify the tradeoff between physical and perceptual effects in helmet design.
Si le port du casque est le moyen le plus efficace pour limiter la gravité des accidents de moto, il pourrait également augmenter le risque d'être impliqué dans un accident puisqu'il limite le champ de vision du motard. Nous avons analysé ici l'effet d'une manipulation du champ de vision sur le comportement de conduite en moto. La tâche consistait à négocier des virages sur un simulateur de moto à base fixe, alors que la hauteur de l'ouverture du casque et la nécessité de contrôler sa vitesse sur un compteur fixé sur le guidon étaient manipulées. Des ouvertures de casque inférieures à 30 deg. environ dégradaient la capacité du conducteur à maintenir sa vitesse et sa position dans la voie; cet effet était d'autant plus marqué dans les conditions impliquant de regarder le compteur de vitesse. Ces résultats ont des implications directes quant à la gestion du compromis entre les contraintes physique et perceptive dans la conception de casques de moto.
Fichier principal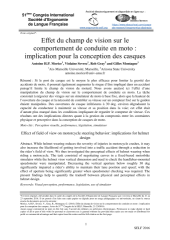 Morice_Sevrez_Gray_Montagne_SELF2016_abstract.pdf (1.03 Mo)
Télécharger le fichier
Origin : Files produced by the author(s)