PROPOSITION D'UN CADRE D'ANALYSE DE SITUATIONS DE FORMATION DES PROFESSEURS DES ÉCOLES
This article presents an analysis model of training situations intended for primary school teachers. This model allows an analysis of resources which are conceived for teacher tutors. It allows to question the potentialities of those situations in order to adapt them to the framework of the training. It also aims at improving the appropriation of these resources. The model is structured into five stages of study allowing to characterize the training activities according to their nature, to the positioning of the trainee and to the knowledge required (in mathematics, didactics, and eventually pedagogy). The use of this model is illustrated in training situations.
Cet article présente un cadre d'analyse de situations de formation destinées aux professeurs des écoles. Ce cadre aide à conduire une analyse des ressources conçues pour les formateurs d'enseignants. Il permet d'interroger les potentialités des situations dans le but de les adapter aux contraintes de formation imposées. Il vise aussi à favoriser une meilleure appropriation de ces ressources. À cette étape de son élaboration, le cadre se structure en cinq paliers d'étude permettant de caractériser les activités de formation en fonction de leur nature, du positionnement du formé et des connaissances convoquées (mathématiques, didactiques, voire pédagogiques). L'utilisation potentielle de ce cadre est illustrée dans l'analyse de trois situations de formation.
Fichier principal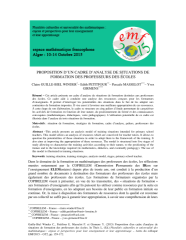 EMF2015GT2GUILLEBIELLEWINDER.pdf (579.73 Ko)
Télécharger le fichier
Origin : Files produced by the author(s)