Quand l'écriture graphique de Stefano Benni rencontre le dessin
Stefano Benni's writing has always been characterized by its deliberate graphic bias. He invented new languages, created burlesque, cartoonlike worlds in which animated images are paramount and support and give life to the narrative storyline but also display a politically committed vision of existence. Also, some of his writings come with illustrations and front covers invariably show original drawings. This paper focuses on the graphic novels of the Bologna based writer to provide with an understanding of what distinguishes them from those of his writings which are graphic by nature. What is suggested is that Benni's stance as a committed writer is more discreet in the former than in the latter.
L'écriture de Stefano Benni a toujours été caractérisée par son biais graphique délibéré. Il a inventé de nouvelles langues, a créé des mondes burlesques et mondiaux dans lesquels les images animées sont primordiales et appuient et donnent vie à l'histoire narrative, mais présentent également une vision d'existence politiquement engagée. En outre, certains de ses écrits sont illustrés et ses couvertures montrent invariablement des dessins originaux. Cet article se concentre sur les romans graphiques de l'écrivain basé à Bologne pour comprendre ce qui les distingue de ceux de ses écrits qui sont graphiques par nature. Ce qui est suggéré, est que la position de Benni comme écrivain engagé est plus discrète dans les premiers que dans les seconds.
Fichier principal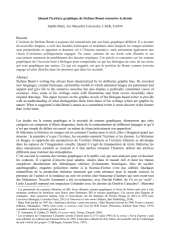 J.ObertRG.pdf (154.63 Ko)
Télécharger le fichier
Origin : Files produced by the author(s)