Pathophysiology, diagnosis and management of occiput posterior presentation during labor.
Variétés postérieures au cours du travail : mécanique obstétricale, diagnostic et prise en charge.
Persistant occiput posterior (OP)positions are the commonest malpresentations of the fetal head during labor and their diagnosis remains challenging. They are associated to prolonged second stage of labor, prolonged expulsive efforts, labor augmentation, cesarean sections and instrumental deliveries. On the maternal side, severe perineal tears, post-partum hemorrhage or chorioamnionitis are more frequent. Currently, prevention of persistent OP positions is based on the maintain of precise maternal positions. Several positions have been evaluated but only lateral position on the same side of the fetal spine has proved its effectiveness. Fetal head rotation can also be achieved with extraction instruments though none has ever been evaluated by arandomized controlled trial. Obstetrical forceps seem more efficient than vacuum but are associated with severe perineal tears. Evaluation of rotation with Thierry's spatulas is scarce. Last, manual rotation is of routine use in many wards. This management is associated with a twofold reduction of operative delivery rate and rare adverse outcomes but has never been evaluated through randomized control trial.
Les variétés postérieures sont les malpositions fœtales les plus fréquentes rencontrées au cours du travail. De diagnostic clinique difficile, elles sont associées à de nombreuses situations dystociques (allongement de la durée du deuxième stade, des efforts expulsifs) qui nécessitent un recours plus fréquent à l'oxytocine, aux accouchements instrumentaux ou par césarienne. Sur le versant maternel, les déchirures périnéales graves et la survenue d'une hémorragie du post partum ou d'une chorioamniotite sont plus fréquentes. Les stratégies de prise en charge proposées reposent actuellement sur le maintien de postures maternelles particulières au cours du travail. Plusieurs postures ont fait l'objet d'essais cliniques randomisés : seule celle consistant à positionner la parturiente en décubitus latéral asymétrique du côté homolatéral au dos fœtal semble prometteuse. La rotation de la tête fœtale peut également être obtenue au moyen d'un instrument d'extraction. Bien qu'aucun n'ait été évalué par un essai clinique randomisé, la rotation par forceps semble plus efficace qu'avec l'utilisation d'une ventouse obstétricale mais associée à des traumatismes périnéaux graves plus fréquents. L'utilisation des spatules, peu évaluée, peut sembler intéressante mais les risques maternels et fœtaux en sont mal appréciés. Enfin, la rotation manuelle consiste à appliquer manuellement un mouvement de rotation afin d'amener la tête en variété antérieure. Bien que très utilisée et pouvant permettre de diviser par deux le recours à un accouchement opératoire, son efficacité n'a pas été confirmée et des essais cliniques randomisés sont en cours.
Fichier principal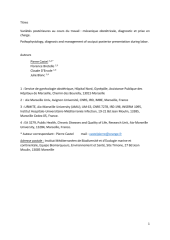 Revue CASTEL RM.pdf (651.5 Ko)
Télécharger le fichier
Origin : Files produced by the author(s)