Les procès fictifs, une réaction pertinente à l'inapplication du droit ?
Curious phenomenon and unknown to lawyers, the fictitious trial is a tool that is more and more used by civil society. It occurs in reaction to the impotence or inaction of review procedures. Monsanto Tribunal, World Tribunal on Iraq, are the various denominations which may allow one to postulate that the fictitious trial is a ponctual element (created by and for a given fact, or several facts at a given period), while being timeless as well, as it may be illustrated by the Russel Tribunal (Vietnam, Congo, Palestine) or the Permanent People's Tribunal (Tibet, Armenian genocide, Tchernobyl…). The fictitious trial enables one to explore the causes and the consequences of the non-enforcement of law. The non-enforcement of law, and in particular the right to engage in legal proceedings, does not leave one indifferent, but leads the path towards new ways for a restorative and reconstructive justice. The non-enforcement of law may shift the center of creation of law towards non traditional spaces, not less legitimate than any other spaces as they constitute true spaces for public deliberation.
Phénomène curieux et méconnu par le juriste, le procès fictif est pourtant un outil de plus en plus utilisé. Tribunal Monsanto, Tribunal Mondial sur l'Irak, Tribunal Russel sont autant d'expériences qui permettent d'explorer les causes de leurs créations ainsi que leurs conséquences dans l'ordre juridique. L'inapplication de certaines règles juridiques interroge et invite alors à rechercher de nouvelles voies de droit pour une justice restaurative ou reconstructive. L'inapplication de la règle juridique peut déplacer le foyer de création du droit dans des espaces non traditionnelles.
Fichier principal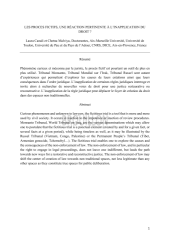 procès fictif et inapplication du droit.pdf (700.05 Ko)
Télécharger le fichier
Origin : Files produced by the author(s)