L'être aux aguets : Une esthétique de la distraction
Contemporary dance and plastic practices, which belong to an aesthetic of presentation, invite us not to add, to inflate the flow of life and thus not to slow down or to double the reality of another real fact of consciousness and representations necessarily different. In these practices of intensity, the notion of experimentation is important and gives full meaning to practices that do not favor results, the formal resolution of the work, but rather the dynamics of a proposition in action. Experimenting does not consist in composing dead objects but in implementing, in the immediacy of the moment, the sobriety of a direct contact with the raw reality. Duplication, which is a factual reality, tends to constitute itself as a rejection of the singularity of reality.
La danse et les pratiques plastiques contemporaines, relevant d'une esthétique de la présentation, invitent à ne pas ajouter, enfler le flux de la vie et ainsi à ne pas freiner ni doubler le réel d'un autre réel fait de conscience et de représentations forcément différées. Dans ces pratiques de l'intensité, la notion d'expérimentation est importante et donne tout son sens à des pratiques qui ne privilégient pas le résultat, la résolution de l'oeuvre dans sa formalité, mais plutôt la dynamique d'une proposition en acte. Expérimenter ne consiste pas ainsi à composer des objets morts mais à mettre en oeuvre, dans l'immédiateté de l'instant, la sobriété d'un contact direct avec la réalité brute. La duplication qui est une réalité de fait, tend à se constituer comme refus de la singularité du réel.
Fichier principal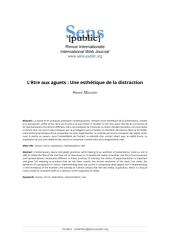 Maugery_Sens public_2015.pdf (184.56 Ko)
Télécharger le fichier
Origin : Files produced by the author(s)