4PL and models of strategic alignment
One of the most significant upheavals of the logistics industry is the emergence of a new generation of logistics service providers, called fourth party logistics (4PL). Their function is to provide the supply chain members with a customized service, based on a flawless coordination of logistical resources mobilized from the various firms. Considering the importance of IT, the research note suggests a conceptual framework on this subject referring to models of strategic alignment. Its aim is to know whether the 4PL are able to combine their business strategy, IT deployment and organizational performance efficiently so as to manage interfaces between the supply chain members in the best conditions. This leads to a number of managerial implications for the future of logistics service providers as coordinators of supply chains.
L'un des bouleversements les plus importants du secteur de la logistique concerne l'émergence d'une nouvelle génération de prestataires de services, dénommés fourth party logistics (4PL). Leur fonction est de proposer un service personnalisé aux entreprises impliquées dans le fonctionnement des chaînes logistiques, fondé sur une parfaite coordination de ressources logistiques mobilisées auprès de différents partenaires. Compte tenu de l'importance des TI, la note de recherche suggère un cadre conceptuel sur le sujet en référence aux modèles de co-alignement. L'objectif est de savoir si les 4PL sont capables d'articuler de manière efficiente stratégie d'affaires, déploiement de TI et performance organisationnelle pour gérer, dans les meilleures conditions, les interfaces entre membres des chaînes logistiques. Il en résulte un certain nombre d'implications managériales pour le devenir des prestataires de services logistiques en tant que coordonnateurs de chaînes logistiques.
Fichier principal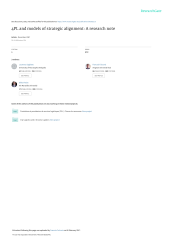 NETCOM_Saglietto&Al_4PL_2007.pdf (361.53 Ko)
Télécharger le fichier
Origin : Publisher files allowed on an open archive