Assessment of current and previous dieback of Atlas cedars in Algeria's Theniet El Had National Park
Balance actual y retrospectivo del agostamiento del cedro del Atlas en el Parque Nacional de Theniet El Had, Argelia
Bilan actuel et rétrospectif du dépérissement du cèdre de l'Atlas dans le Parc national de Theniet El Had (Algérie)
Dieback of Atlas cedars is a complex phenomenon that has been affecting the cedar forests of the Aurès mountains and Theniet El Had since the 1980s. Its causes are still unknown. This study focused on the cedar forest of Theniet El Had in order to gain a better understanding of the way Atlas cedar dieback is evolving over time and space and to establish whether it has any relationship with environmental factors. Two approaches were applied. In the first, a spatial approach, the distribution of affected trees was mapped out according to altitude, slope, exposure, dendrometric parameters (diameter and height) and state of health (percentage of defoliation). In the temporal approach, radial growth rates were compared between affected and healthy trees in six ecological stations that were representative of Atlas cedar stands in the study zone. The results show that dieback is more severe in the Theniet El Had forest towards its lower limits in steeply sloping low-altitude stations exposed to sunlight and heat. Dieback is advanced and affects adult and/or aging trees. The trees affected stand out for their poor growth and very high average sensitivity to climatic factors. The prolonged drought in the region from 1980 to 2002 has exacerbated the effects of aging, which has affected and worsened the state of health of the Atlas cedars. These results point to the urgency of undertaking sylvicultural work to improve the health of these stands and to establish sampling plots.
El agostamiento del cedro del Atlas en Argelia es un fenómeno complejo que ha afectado a los cedrales de Aurès y Theniet El Had desde los años 1980, y cuyas causas todavía son desconocidas. Para comprender mejor la evolución espaciotemporal del agostamiento del cedro del Atlas y establecer una eventual relación con los factores del medio, nuestro trabajo se ha focalizado en el cedral de Theniet El Had. Este estudio se basa en dos enfoques. Uno, espacial, inventaría la repartición de los árboles agostados según la altitud, la pendiente, la exposición, así como sus parámetros dendrométricos (diámetro, altura) y su estado de salud (tasa de defoliación). El otro, temporal, compara la evolución del crecimiento radial de los árboles agostados y de los árboles sanos en seis estaciones ecológicas representativas de las masas de cedro del Atlas en la zona de estudio. Los resultados muestran que el fenómeno de agostamiento del cedro del Atlas ha afectado más al cedral de Theniet El Had hacia su límite inferior, en estaciones situadas a baja altitud, en terrenos de fuerte pendiente y con exposiciones soleadas y cálidas. Este fenómeno se presenta en un estado avanzado, y los árboles agostados son árboles adultos y/o viejos. Los árboles agostados se distinguen por un débil crecimiento y una sensitividad media al clima muy elevada. Además del efecto de la edad, la sequía prolongada en la región durante el período 1980-2002 afectó y agravó el estado de salud del cedro del Atlas. Estos resultados ponen al día la urgencia de emprender tareas silvícolas para mejorar el estado de salud de las masas e implementar un dispositivo de vigilancia de la salud del cedro.
Le dépérissement du cèdre de l'Atlas en Algérie est un phénomène complexe qui a affecté les cédraies des Aurès et Theniet El Had depuis les années 1980, et dont les causes restent inconnues. Pour mieux comprendre l'évolution spatio-temporelle du dépérissement du cèdre de l'Atlas et établir une éventuelle relation avec les facteurs du milieu, notre travail s'est focalisé sur la cédraie de Theniet El Had. Ce travail est basé sur deux approches. L'une, spatiale, recense la répartition des arbres dépéris selon l'altitude, la pente, l'exposition, ainsi que leurs paramètres dendrométriques (diamètre, hauteur) et leur état de santé (taux de défoliation). L'autre, temporelle, compare l'évolution de la croissance radiale des arbres dépéris et des arbres sains dans six stations écologiques représentatives des peuplements de cèdre de l'Atlas dans la zone d'étude. Les résultats montrent que le phénomène de dépérissement du cèdre de l'Atlas a davantage marqué la cédraie de Theniet El Had vers sa limite inférieure, dans des stations situées à basse altitude, sur des terrains à forte pente et aux expositions ensoleillées et chaudes. Ce phénomène se présente dans un état avancé, et les arbres dépéris sont des arbres adultes et/ou âgés. Les arbres dépéris se distinguent par une faible croissance et une sensitivité moyenne au climat très élevée. En plus de l'effet de l'âge, la sécheresse prolongée dans la région au cours de la période 1980-2002 a affecté et aggravé l'état de santé du cèdre de l'Atlas. Ces résultats mettent au jour l'urgence d'entreprendre des travaux sylvicoles pour améliorer l'état de santé des peuplements et de mettre en place un dispositif de surveillance de la santé du cèdre.
Fichier principal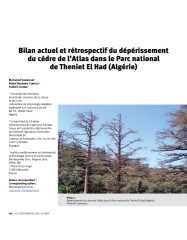 Sarmoum et al Bois et forêts des tropiques 2019.pdf (2.2 Mo)
Télécharger le fichier
Origin : Publisher files allowed on an open archive