Pour un chien jaune. Questions de figuration humaine au cinéma
This article is dedicated to the study, in the history of cinema and through selected examples (De Sica, Hawks, DeMille, Kim Ki-Duk, Tarkovsky, Ozu), of the ways in which the filmic mightness can seize the joint representation of man and dog. Three categories will stand out in particular: 1 / the "anthropological" dog associated with human virtues or vices and symbolizing a distinctive moral state of mankind; 2 / the "anthropomorphological" dog qua a symptom of the human body as an animal and pathic body; 3 / the "anthropocephalic" dog, the man like a dog with a man's head, which culminates in the canine qualification of the camera. These categories, obviously permeable to each other, intend to draw a first aesthetic access to the symbiotic representation of the human species and the animal.
Cet article se propose d'étudier, dans l'histoire du cinéma et à travers des exemples choisis (De Sica, Hawks, DeMille, Kim Ki-Duk, Tarkovski, Ozu), les manières dont les puissances filmiques peuvent s'emparer de la représentation conjointe de l'homme et du chien. Trois catégories vont se distinguer tout particulièrement : 1/ le chien « anthropologique » associé à des vertus ou des vices humains et symbolisant un état moral distinctif de l'homme ; 2/ le chien « anthropomorphologique » comme symptôme du corps humain en tant que corps animal et pathique ; 3/ le chien « anthropocéphale », l'homme comme un chien à tête d'homme, qui culmine dans la qualification canine de l'appareil de prise de vues. Ces catégories, évidemment perméables les unes les autres dans les faits, entendent dessiner une première voie d'accès esthétique à la figuration symbiotique de l'espèce humaine et de l'animal.
Fichier principal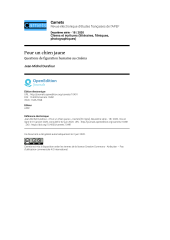 Pour un chien jaune_Carnets_2020.pdf (285.04 Ko)
Télécharger le fichier
Origin : Publisher files allowed on an open archive