Freud et la bande dessinée : une rencontre onirique
In this article, we wish to shed light on the analogous and isomorphic links that exist between the structure of dreams according to Freud and that of comics. Indeed, in The Interpretation of Dreams, Freud used only one illustration: Is it not surprising that the illustration he chose was a comic strip? Far from being anecdotal, we consider that this choice reveals the homologous procedural links that govern the work of dreams and the work of comics. To demonstrate this homology, we relate the comic strip chosen by Freud to illustrate the work of the dream with the works of Winsor McCay, a renowned author and an explorer of dream activity.
Dans cet article nous souhaitons éclairer les liens d'analogies et d'isomorphismes existant entre la structure du rêve selon Freud et celle de la bande dessinée. En effet, dans « L'interprétation des rêves », Freud n'aura recours qu'à une seule illustration. N'est-ce pas étonnant que ce soit d'une planche de bande dessinée qu'il s'est emparé ? Loin d'être anecdotique, nous envisageons ce choix comme révélateur des liens d'homologie processuels qui régissent le travail du rêve et le travail de la bande dessinée. Pour illustrer cette homologie, nous mettons en rapport la planche de bande dessinée choisie par Freud pour illustrer le travail du rêve avec les productions de McCay, auteur de renom et explorateur de l'activité onirique.
Fichier principal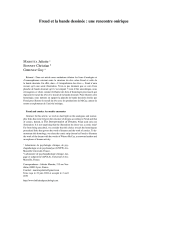 Freud et la Bande dessinée Marotta, CB GG.pdf (1000.96 Ko)
Télécharger le fichier
Origin : Files produced by the author(s)