Activité enseignante à l'état naissant et développement du pouvoir d'agir : un prototype clinique
In this contribution we are building on a long-term work conducted within the framework of an intervention-research with Guillemette, a young professor of history-geography working in a "difficult" college. At the time of our first meeting she suffers from not being able to build professional stability needed to consolidate its activity and organizing working conditions and student learning. We show how it is appropriate dialogic device mobilized during the intervention research to make its business development tool. Causing it to revive classroom situations already experienced and increasing social contact with herself, he helped revive the many debates which its activity is the seat and opened the possibility for her to "do something thing "of his concerns, recycling in" occupations "based on compromise renewed and more effective in their dual objective and subjective dimension. The confrontation of the "case Guillemette" in other cases products at other interventions-research, and its subsequent alterations resulting horizontal reconfigurations within this collection of cases, allow us to consider it as a clinical prototype on based on which we sketch the outline of a model of the organizers of career paths through which develops the teaching activity in the nascent state.
Dans cette contribution nous prenons appui sur un travail au long cours conduit dans le cadre d'une intervention-recherche avec Guillemette, jeune professeur d'histoire-géographie exerçant dans un collège « difficile ». Au moment de notre première rencontre elle souffre de ne pas parvenir à construire la stabilité professionnelle nécessaire pour asseoir son activité et organiser les conditions de travail et d'apprentissage de ses élèves. Nous montrons comment elle s'est approprié le dispositif dialogique mobilisé au cours de l'intervention-recherche pour en faire un instrument de développement de son activité. En l'amenant à revivre des situations de classe déjà vécues et en multipliant les contacts sociaux avec elle-même, il a permis de relancer les nombreux débats dont son activité est le siège et il a ouvert sur la possibilité pour elle de « faire quelque chose » de ses préoccupations, en les recyclant dans des « occupations » reposant sur des compromis renouvelés, plus efficaces dans leur double dimension objective et subjective. La confrontation du « cas Guillemette » à d'autres cas produits à l'occasion d'autres interventions-recherches, ainsi que ses retouches successives résultant des reconfigurations horizontales au sein de cette collection de cas, nous permettent de le considérer comme un prototype clinique sur la base duquel nous esquissons l'ébauche d'un modèle des organisateurs des trajectoires professionnelles à travers lesquelles se développe l'activité enseignante à l'état naissant.
Fichier principal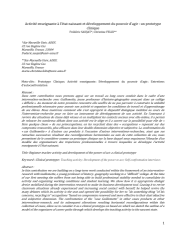 Article-phronesis_Déf..pdf (697.44 Ko)
Télécharger le fichier
Origin : Files produced by the author(s)