''Je vais et viens de Rome selon les occasions.'' Migrations internes et mobilité circulaire des travailleurs ruraux (XVIIe-XVIIIe siècles)
The article focuses on rural migrants from Papal States in the 17th and 18th centuries. It aims to describe patterns of internal migration closely linked to circular mobility practices. The context of pre-unitary Italy is particularly interesting in the study of internal migration, since the political fragmentation of the peninsula is overlaid by the multiplicity of social and legal affiliations. In the first part, the article takes into consideration the social profiles and pathways of rural migrants, which include both agricultural works, often seasonal, and the use of "welfare" structures in Rome as specific features. Then, winegrowers will be examined more closely, in order to stress out the internal differentiation of the rural migrant population, but also to take into account the authorities' reaction towards these inhabitants, who are both mobile and yet a part of the urban community. In order to do so, the article relies on sources such as parish registers of the states of souls, processetti matrimoniali and archival records of roman hospices and hospitals.
L'article porte sur les migrants ruraux des États pontificaux aux 17e et 18e siècles. Il a pour but de décrire des modèles de migration interne étroitement liés aux pratiques de mobilité circulaire. Le contexte de l'Italie pré-unitaire est particulièrement intéressant dans l'étude des migrations internes, puisqu'à la fragmentation politique de la péninsule se superpose la multiplicité des appartenances sociales et juridiques. Dans la première partie, l'article prend en considération les profils sociaux et les parcours de mobilité interne des migrants ruraux, qui se développent entre les deux pôles du travail agricole, souvent saisonnier, et du recours aux structures de welfare de Rome, une grande ville capitale. Ensuite, les vignerons, en tant que « figures de la mobilité » par excellence, seront examinés de plus près afin de dégager davantage les différenciations internes à la population des migrants ruraux, mais aussi afin de prendre en compte la réaction des autorités vis-à-vis de ces habitants à la fois mobiles et faisant pourtant partie intégrante de la communauté urbaine. Pour ce faire, l'article s'appuie sur des sources telles que les registres paroissiaux des états des âmes, les processetti matrimoniali, les fonds des hospices et des hôpitaux de la ville.
L'articolo tratta il tema dei migranti rurali nello Stato Pontificio tra il XVII e il XVIII secolo; lo scopo è quello d'illustrare gli schemi di migrazione interna strettamente legati a quelli di mobilità circolare. Il contesto dell'Italia preunitaria è particolarmente interessante nello studio delle migrazioni interne, poiché alla frammentazione politica della penisola si sovrappongono le molteplici appartenenze sociali e giuridiche. Nella prima parte, l'articolo prende in considerazione i profili sociali e i percorsi di mobilità interna dei migranti rurali, che si sviluppano tra i due poli del lavoro agricolo, spesso stagionale, e del ricorso alle strutture del "welfare" di Roma, una grande città capitale. In seguito, saranno analizzati più da vicino i vignaioli, "figure della mobilità" per eccellenza. Ciò permetterà di mettere in luce la diversificazione all'interno della popolazione migratoria rurale e di prendere in considerazione la reazione delle autorità nei confronti di questi cittadini allo stesso tempo ambulanti e integrati nella comunità urbana. Per fare ciò, l'articolo si avvale di fonti quali i registri parrocchiali dello stato delle anime, i processetti matrimoniali, i fondi degli ospizi e degli ospedali della città.
Fichier principal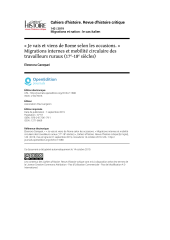 chrhc-11688.pdf (456.86 Ko)
Télécharger le fichier
Origin : Publisher files allowed on an open archive